Amazon is holding its third Reinvent conference in Las Vegas – 13,500 attendees catching up on Amazon's Web Services platform. In this morning's keynote, Amazon's Senior VP of cloud services Andy Jassy evangelised the platform and announced a number of new services which, in typical Amazon style, are now available in preview.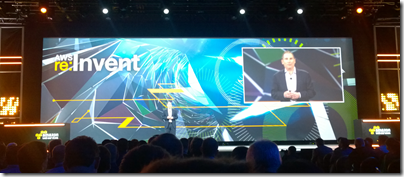 Amazon is well ahead of its competitors in cloud services, in terms of market share and mindshare, and Jassy had no problems reeling off impressive statistics and case studies. A slide showing that AWS is not only larger but also growing faster yea-on-year than its competition prompted a small protest. Microsoft claims that Amazon understated its rate of growth:

The refrain from those who spoke on behalf of companies such as Intuit (which intends to move 100% of its applications to AWS) was that no alternative cloud provider could offer a realistic alternative to AWS. With the progress being made by competitors I wonder for how long this will be true – and bear in mind that this is an Amazon conference – but it testifies to the dominance that Amazon has achieved.
Jassy made a key point about security and compliance. The relative security of public cloud versus private datacenters has long been debated, initially on the assumption that computing resources you own and guard yourself must be more secure than those hosted by third-parties. The counter is that few organisations can afford the level of security that big public cloud providers can achieve. Jassy's point though was that the number of certifications now achieved by AWS is now such that security and compliance is now a driver towards cloud computing.
The main news though was a series of product announcements:
Aurora relational database: a MySQL compatible database as a service for which Jassy claims 5x the performance of MySQL. He says that businesses stick with commercial, proprietary database managers because open source solutions lack the performance, but that Aurora now provides a solution at a commodity price. Unfortunately Aurora is not going to help those with applications locked into Oracle, SQL Server or others. Still, 5x performance is always welcome.
CodeDeploy: apparently based on a service Amazon uses internally, this is a deployment tool for pushing out updated applications to EC2 (Elastic Compute Cloud) VMs without downtime.
CodeCommit: a source code management service for Git repositories.
CodePipeline: automate your software release by defining a workflow of tests and approvals.
Key Management Service: if you manage encrypted data you will be familiar with the hassles of managing and rotating encryption keys. Here is a service to manage that.
AWS Config: A discovery service for the AWS resources you are using.
Service Catalog: a custom portal for users to browse and use AWS resources offered by an organisation.
This was day one; there is another keynote tomorrow and there may be more announcements.
There is no doubting the momentum behind AWS, and according to Jassy, there is still a long way to grow. Towards the end of the keynote he talked about businesses moving entire datacenters to AWS, for example when leases expire, and in the press Q&A session later he expressed the belief that eventually few companies will operate their own datacentres; he does not see much future for private cloud – in the sense of self-managed clouds on your own infrastructure. That is of course what you would expect Amazon to say.
Partnerships are key in this industry and I was interested to note the Reinvent sponsors: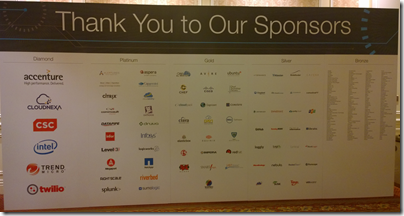 The Diamond sponsors (who I presume have paid the most) are Accenture, Cloudnexa (AWS consultants), CSC (also consultants), Intel (I guess Amazon buys a lot of CPUs), Trend Micro and twilio (who must me doing well to be on this list).