Microsoft's Surface range is now extensive. There is the Surface Pro (tablet with keyboard cover), the Surface Laptop (laptop with thin keyboard), and the Surface Book (detachable tablet). And the Surface Studio, an all-in-one desktop. Just announced, and on display here at Microsoft's Future Decoded event in London, is Surface Book 2.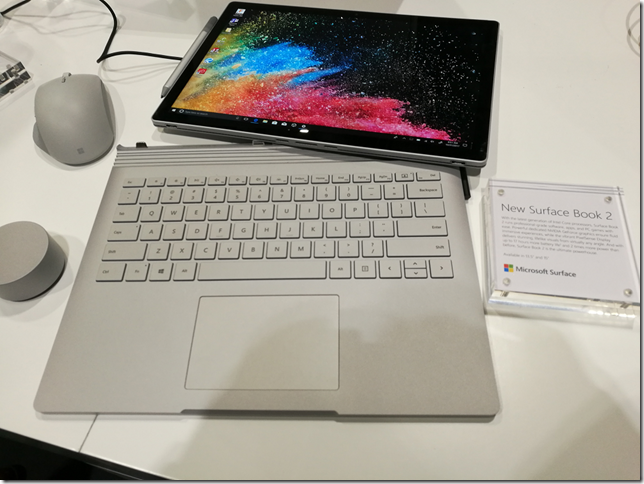 The device feels very solid and the one I saw has an impressive spec: an 8th Gen Intel Core i7 with 16GB RAM and NVIDIA GeForce GTX 1050 discrete GPU. And up to 17 hours battery life.
All good stuff; but I have a couple of reservations. One is the weight; "from 3.38 lbs (1.534 Kg) ", according to the spec. By contrast, the Surface Laptop starts at 1.69 lbs (0.767 Kg).
That makes the Book 2 heavy in today's terms. I am used to ultrabook-style laptops now.
Of course you can lighten your load by just using the tablet. Will you though? I rarely see Windows convertible or detachable devices used other than like laptops, with the keyboard attached. The Surface is more likely to be used like a tablet, since you can simply fold the keyboard cover back, but with the Book you either leave the keyboard at home, and put up with short battery life, or have it at least in your bag.