I received a Kingston DataTraveler Workspace for review, one of the few devices supported for use as a Windows to Go drive. Windows to Go is a way of running Windows 8 from a USB drive. If you need to take work home and continue on a home PC, Windows to Go lets you do so in an isolated environment. It is also a useful way to protect sensitive data, since there is an option to encrypt the drive with Bitlocker, the encryption method built into recent versions of Windows.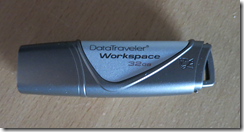 The DataTraveler Workspace is a 32GB USB 3.0 drive. It follows the usual convention of having a blue connector to indicate USB 3.0 support.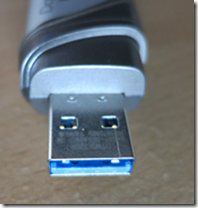 USB 3.0 is recommended but not required for Windows to Go. If you run from USB 3.0, the performance should be equal or better than running from a hard drive. It will work with USB 2.0, but will be slower.
Microsoft's documentation for Windows to Go is not that great. Still, it is easy to get started. All you need is a supported USB drive and Windows 8 Enterprise (or any x86 version if you do not mind using the command line).
First, mount the Windows 8 Enterprise install DVD. Identify install.wim from the Sources folder on the DVD and make sure it is accessible.
Next, connect the USB drive to a USB 3.0 port if possible.
Then start the Windows To Go wizard – to find it search Settings and not Apps on the Start screen. [If you do not have Windows 8 Enterprise, check the scripting guide as well as the licensing requirements.]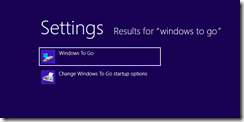 Run the wizard and select the target USB drive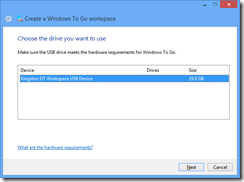 The wizard will find install.wim automatically, or you can help it out if necessary.
Optionally set a BitLocker password. Recommended, or why do you need Windows to Go? Do not forget it though.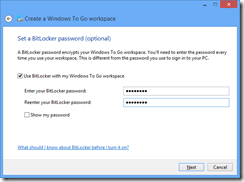 Finish the wizard and after a few minutes you have a Windows to Go device ready.
I stuck it into a Dell laptop running Windows 7 and booted. This is essentially a new install of Windows 8, so it did all the detecting devices and welcome stuff. I signed in with a Microsoft account and despite only having USB 2.0 on this laptop, was pleased with the performance.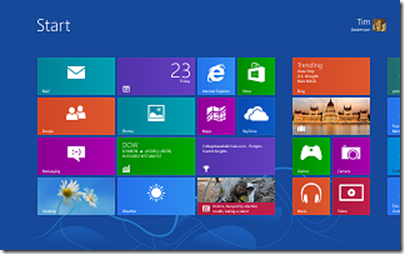 I noticed that the normal SSD drive on the laptop was invisible in Explorer.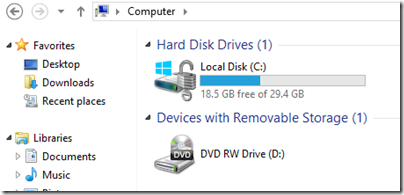 On further investigation, I found it had been marked offline by my system policy – I don't recall setting this, so it is a default.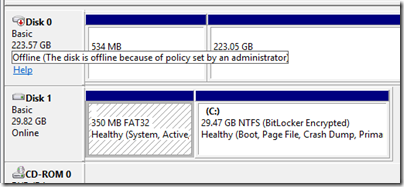 For my next experiment, I shut down, stuck the USB drive into a Samsung Slate, and rebooted. The slate did not boot from USB by default, but I did find Windows To Go startup options, which I believe are in all versions of Windows 8, which let you set an option to use it.
That worked. Then – disaster. The slate has no keyboard, and only one USB port. I was prompted for the Bitlocker password, but no matter where I tapped, the on-screen keyboard did not pop up for me to enter it. I had to find the dock for the slate, which has an additional USB port, plug in a USB keyboard, and retry. I can see this being a showstopper in some scenarios.
That worked though, and although I am not yet clear from the documentation how free and easy you can be moving Windows To Go between different hardware, I was impressed by how quickly and easily it started. The only inconvenience is that I had to re-enter the wifi key, presumably because the wifi adaptor on the slate is detected as a different device from the one on the Dell.
Pretty good, but this being a new install of Windows 8 I have considerable work ahead of me to make it useful by installing Office and other applications. How does this work in a business where you need stuff pre-installed?
The answer is here, if you can make sense of it: Microsoft's instructions on creating a custom Windows image that you can use for multiple Windows To Go drives. It is not trivial; you start by downloading and install the Windows ADK (Windows Assessment and Deployment Kit) for Windows 8.
Another day maybe. For now, I am impressed. The main snag is that few of my PCs have USB 3.0.
Windows To Go does not work on Microsoft's Surface RT tablet, but will work on Surface Pro when that is released.
Update: another issue with Windows To Go turned up when I tried running it on a netbook. I was impressed with the performance and that it worked, after a few minutes "detecting devices". However when I launched Word 2013 it said Office needs activation because of changed hardware. Presumably this will be a real problem if you regularly use your Windows To Go device on different PCs, which as I understand it is how it is meant to be used.
Office activation is part of Microsoft's copyright protection for Office and I presume that after a certain number of activations it will no longer activate.