I took the opportunity here at Microsoft PDC to find out what Microsoft means by AppFabric. Is it a product? a brand? a platform?
The explanation I was given is that AppFabric is Microsoft's middleware brand. You will normally see the work in conjunction with something more specific, as in "AppFabric Caching" (once known as Project Velocity) or "AppFabric Composition Runtime" (once known as Project Dublin. The chart below was shown at a PDC AppFabric session: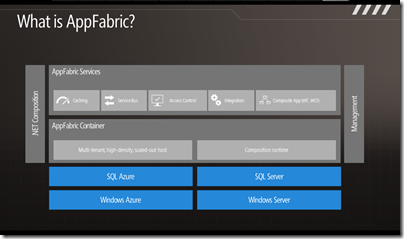 Of course if you add in the Windows Azure prefix you get a typical Microsoft mouthful such as "Windows Azure AppFabric Access Control Service."
Various AppFabric pieces run on Microsoft's on-premise servers, though the emphasis here at PDC is on AppFabric as part of the Windows Azure cloud platform. On the AppFabric stand in the PDC exhibition room, I was told that AppFabric in Azure is now likely to get new features ahead of the on-premise versions. The interesting reflection is that cloud customers may be getting a stronger and more up-to-date platform than those on traditional on-premise servers.