Is Microsoft ditching Silverlight and embracing HTML 5? Or is Silverlight the future of desktop and browser-based development on Microsoft's platform?
Good question; and I am not sure that Microsoft itself can answer. There is evidence for both cases.
One thing I have noticed though is that Silverlight is turning up in numerous Microsoft products. This is in contrast to the early years of the original .NET Framework, which Microsoft used rather little in its own stuff, though the context is different today because of the growth in web-based development.
I guess we cannot really count Visual Studio LightSwitch, which is a tool that builds Silverlight applications, though it is interesting insofar as the target market is not expert developers, but smart general users who want to build database applications.
Lync Server 2010 is a better example. Silverlight is used for the control panel.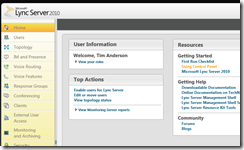 Windows Azure, a strategic product for Microsoft, uses Silverlight for its control panel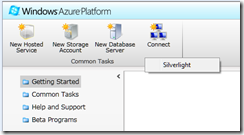 Windows Intune, for maintaining networks online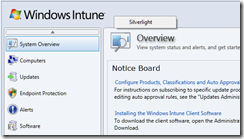 System Center for managing Microsoft servers. I'm not actually sure how much Silverlight is used in System Center, but I understand the newly announced "Concero", a new feature for managing public and private clouds, uses a Silverlight control panel and I suspect it is used elsewhere as well.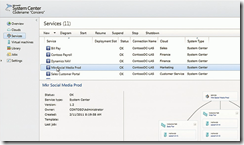 These are a few that I am aware of; I would be interested in other examples.
Now, you can make sense of this to some extent by distinguishing "Windows platform" from "broad reach" applications. It is curious, but Silverlight which started out as a broad reach plugin is gradually moving towards a Windows platform runtime, though it still runs on a Mac with some limitations, mainly lack of COM interop. There has been speculation that Silverlight could merge with the desktop Windows Presentation Foundation and become a commonly used application runtime for desktop Windows as well as web apps, and of course Windows Phone.
When Microsoft wants broad reach, it uses HTML, an example being Office Web Apps which make hardly any use of Silverlight.
Nevertheless, using Silverlight for products like Windows Intune could be annoying for administrators who might otherwise use an Apple iPad when out and about; but I guess Microsoft figures that if you are deep enough into Windows to use Intune, you probably will not be using an iPad.
Let me add that Silverlight seems to me to be working well in the examples above, to the extent that I have tried it. Could they be done equally well in HTML and JavaScript? Probably, if users have IE9, but probably not if it is IE8 or earlier.
Silverlight the new Windows, HTML 5 the new Silverlight?