I am attending the Microsoft Management Summit in Las Vegas (between 5 and 6,000 attendees I was told), where Brad Anderson, corporate vice president of Windows Server & System Center, gave the opening keynote this morning.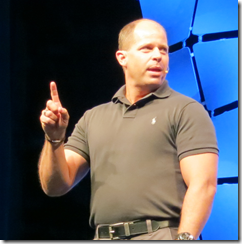 There was not a lot of news as such, but a few things struck me as notable.
Virtualisation rival VMware was never mentioned by name, but frequently referenced by Anderson as "the other guys". Several case studies from companies that had switched from "the other guys" were mentioned, with improved density and lower costs claimed as you would expect. The most colourful story concerned Dominos (pizza delivery) which apparently manages 15,000 servers across 5,000 stores using System Center and has switched to Hyper-V in 750 of them. The results:
28% faster hard drive writes
36% faster memory speeds
99% reduction in virtualisation helpdesk calls
That last figure is astonishing but needs more context before you can take it seriously. Nevertheless, there is momentum behind Hyper-V. Microsoft says it is now optimising products like Exchange and SQL Server specifically for running on virtual machines (that is, Hyper-V) and it now looks like a safe choice, as well as being conveniently built into Windows Server 2012.
I also noticed how Microsoft is now letting drop some statistics about use of its cloud offerings, Azure and Office 365. The first few years of Azure were notable in that the company never talked about the numbers, which is reason to suppose that they were poor. Today we were told that Azure storage is doubling in capacity every six to nine months, that 420,000 domains are now managed in Azure Active Directory (also used by Office 365), and that Office 365 is now used in some measure by over 20% of enterprises worldwide. Nothing dramatic, but this is evidence of growth.
Back in October 2012 Microsoft acquired a company called StorSimple which specialises in integrating cloud and on-premise storage. There are backup and archiving services as you would expect, but the most innovative piece is called Cloud Integrated Storage (CiS) and lets you access storage via the standard iSCSI protocol that is partly on-premise and partly in the cloud. There was a short StorSimple demo this morning which showed how how you could use CiS for a standard Windows disk volume. Despite the inherent latency of cloud storage performance can be good thanks to data tiering, which puts the most active data on the fastest storage, and the least active data in the cloud. From the white paper (find it here):
CiS systems use three different types of storage: performance-oriented flash SSDs, capacity- oriented SAS disk drives and cloud storage. Data is moved from one type of storage to another according to its relative activity level and customer-chosen policies. Data that becomes more active is moved to a faster type of storage and data that becomes less active is moved to a higher capacity type of storage. 
CiS also uses compression and de-duplication for maximum efficiency.
This is a powerful concept and could be just the thing for admins coping with increased demands for storage. I can also foresee this technology becoming part of Windows server, integrated into Storage Spaces for example.
A third topic in the keynote was mobile device management. When Microsoft released service pack 1 of Configuration Manager (part of System Center) it added the ability to integrate with InTune for cloud management of mobile devices, provided that the devices are iOS, Android, Windows RT, or Windows Phone 8. A later conversation with product manager Andrew Conway confirmed that InTune rather than EAS (Exchange ActiveSync) policies is Microsoft's strategic direction for mobile device management, though EAS is still used for Android. "Modern devices should be managed from the cloud" was the line from the keynote. InTune includes policy management as well as a company portal where users can install corporate apps.
What if you have a BlackBerry 10 device? Back to EAS. A Windows Mobile 6.x device? System Center Configuration Manager can manage those. There is still some inconsistency then, but with iOS and Android covered InTune does support a large part of what is needed.