Microsoft has released an early preview of Internet Explorer 10, which you can download now. It shows the company's commitment – for the moment – to an energetic release cycle for its web browser.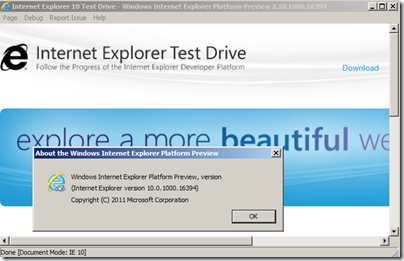 Why use IE? Microsoft is pushing the notion that only IE is truly native on Windows:
IE10 continues on IE9's path, directly using what Windows provides and avoiding abstractions, layers, and libraries that slow down your site and your experience.
In practice, this means using the Windows graphic stack directly and integrating with the Windows shell through features like jump list support on Windows 7.
IE10 supports more CSS3 standards including multi-column layout, Grid layout and Flexible Box Layout,  and Gradients. There is also support for EcmaScript 5 Strict Mode, which enforces tighter standards so reducing the likelihood of errors. Strict Mode is optional; if a web browser tried to apply it to the entire web lots of pages would break.
Microsoft is promising to support additional CSS3 standards including transitions and 3D transforms, though these are not in the preview. New preview releases will appear every 8-12 weeks.
According to Corporate VP Dean Hachamovitch, the company is steering a tight path between falling behind, and implementing immature standards:
When browsers prematurely implement technology, the result is activity more than progress. Unstable technology results in developers wasting their time rewriting the same site.
he writes in a blog post.
IE10 was announced today at the Mix conference in Las Vegas. Mix seems to be featuring equal measures of HTML5 and Silverlight, which makes for an interesting tension. News on Windows Phone is also promised, though I am not sure whether this is the moment when Microsoft will tell us about the next generation of Windows Phone and how it ties in with Windows 8 and with tablet devices. All will be revealed (or not) tomorrow.