Microsoft has released Visual Studio LightSwitch, a rapid application builder for data-centric applications.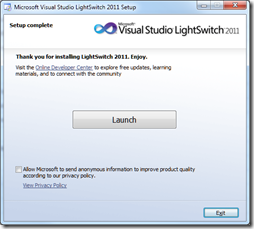 LightSwitch builds Silverlight applications, which may seem strange bearing in mind that the future of Silverlight has been hotly debated since its lack of emphasis at the 2010 Professional Developers Conference. The explanation is either that Silverlight – or some close variant of Silverlight – has a more important future role than has yet been revealed; or that the developer division invented LightSwitch before Microsoft's strategy shifted.
Either way, note that LightSwitch is a model-driven tool that is inherently well-suited to modification for different output types. If LightSwitch survives to version two, it would not surprise me to see other application targets appear. HTML 5 would make sense, as would Windows Phone.
So LightSwitch generates Silverlight applications, but they do not run on Windows Phone 7 which has Silverlight as its development platform? That is correct, and yes it does seem odd. I will give you the official line on this, which is that LightSwitch is not aimed primarily at developers, but is for business users who run Windows and who want a quick and easy way to build database applications. They will not care or even, supposedly, realise that they are building Silverlight apps.
I do not believe this is the whole story. It seems to me that either LightSwitch is a historical accident that will soon be quietly forgotten; or it is version one of a strategic product that will build multi-tier database applications, where the server is either Azure or on-premise, and the client any Windows device from phone to PC. Silverlight is ideal for this, with its modern presentation language (XAML), its sandboxed security, and its easy deployment. This last point is critical as we move into the app store era.
LightSwitch could be strategic then, or it could be a Microsoft muddle, since the official marketing line is unconvincing. I have spent considerable time with the beta and doubt that the supposed target market will get on with it well. Developers will also have a challenge, since the documentation is, apparently deliberately, incomplete when it comes to writing code. There is no complete reference, just lots of how-to examples that might or might not cover what you wish to achieve.
Nevertheless, there are flashes of brilliance in LightSwitch and I hope, perhaps vainly, that it does not get crushed under Microsoft's HTML 5 steamroller. I set out some of its interesting features in a post nearly a year ago.
Put aside for a moment concerns about Silverlight and about Microsoft's marketing strategy. The truth is that Microsoft is doing innovative work with database tools, not only in LightSwitch with its model-driven development but also in the SQL Server database projects and "Juneau" tools coming up for "Denali", SQL Server 2011, which I covered briefly elsewhere. LightSwitch deserves a close look, even it is not clear yet why you would want actually to use it.