Financial Times thrives on HTML 5, paywall, and snubbing Apple iTunes
I spoke to Rob Grimshaw, Managing Director of FT.Com, shortly after Mobile World Congress in Barcelona, where the FT web app won an award for "Best Mobile Innovation for Publishing".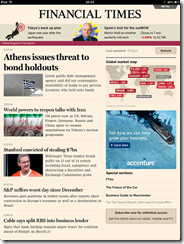 I was interested in speaking to Grimshaw for two reasons.
First, the FT is a publication which has successfully managed the transition from print to online. The latest published results , for the first half of 2011, report that FT Group sales were up 7% and profits up 10%, "enhanced by digital subscriptions."
Second, the FT took the initiative to bypass Apple's app store with its onerous subscription terms by remaking its app as HTML5, as reported here .
The award "was the icing on the cake for the whole process," Grimshaw told me. "When we abandoned the native app and stepped out of iTunes, it was a big commercial gamble, and it was a rueful moment as well because we'd created a beautiful native app and won an Apple design award."
Was the FT move all about subscription fees, or were there other factors? "It was not all about Apple," said Grimshaw. "Certainly their 30% tax on subscriptions didn't make sense to us, because we already have our own platform so why pay somebody else to use their platform? Second, they would have owned the relationship with the customer. That's important for various reasons, but for example it makes it difficult to manage churn, which is a crucial aspect of a subscription business.
"There were some other reasons. The mobile market would have been problematic if we had to keep developing all our applications for many different  operating systems. The overhead is enormous. It doesn't stop once you've launched the app, you have to keep ugrading and changing.
"HTML 5 offers a way out of that headache by producing code that runs across multiple platforms.
"When you add all of that together, it seems to be smart to go the HTML 5 route even though it was technologically risky because at the time nobody else had done it."
So what has been the impact of the web app versus the native app?
"A lot of people said, if we leave iTunes we'll disappear from the world. We haven't found that to be the case. In the four month period after we launched the web app, from June through to October 2011, our traffic on the iPad and the iPhone increased by over 50%. 1.7 million people have now visited the web application, more than ever downloaded our old iPhone and iPad app combined.
"We have many tools and techniques which help us to promote and build audience in the browser, and they work just as effectively for the web app as they do for our normal web sites."
Is the success of the web app a reflection of the type of app, which is content-dominated, or will web apps dominate more generally in the mobile space?
"I think that HTML 5 will dominate. The buzz around HTML 5 at Mobile World Congress reinforced that view. It feels to me that there is an unstoppable momentum behind it," said Grimshaw, mentioning PhoneGap-style native wrappers as well as pure web apps. "The counter argument is that for some of the new features of phones and tablets you have to use native code. However, I think 90% of applications don't need that kind of support. We produce a very sophisticated app, and HTML 5 covers all the functions that we would ever need to use."
"Once people discover what they can do within the browser they will start thinking why would you develop in native when it creates all of these headaches."
As form factors become more varied, do you see a convergence between what you do for mobile and what you do for the wider internet?
"I can see them coming together. I can imagine a day where a single set of HTML 5 code can power our site across the full range of smartphones, tablets and desktop. The only obstacle is that so many browsers on the desktop don't support HTML 5 fully.
Page 1 of 2 | Next page
Related posts: