Microsoft is introducing a new feedback system for https://docs.microsoft.com, used for its technical documentation.
The new system, which you can already see for certain topics such as the Visual Studio IDE, is based on GitHub issues. When you leave a comment, you can specify whether it concerns documentation or product functionality.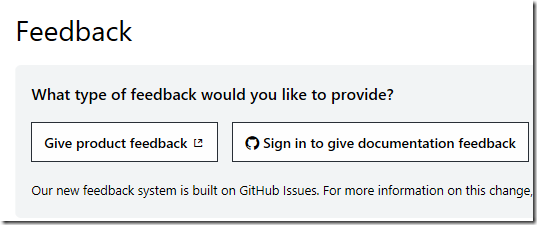 So far so good, but the downside is that all existing comments will be deleted:
The statement "Old comments will not be carried over. If content within a comment thread is important to you, please save a copy." is unhelpful. Nobody knows what comments will be useful to them in future.
Few things sap enthusiasm for community participation more than having all the past contributions into which you have put effort suddenly zapped. Nor is this the first time, as user guibirow notes:
As much I like the new system idea, I hate the fact that this is happening over and over.
It used to be a Disqus comment system, then moved to LiveFyre, then moved now to this new system, what will be the next?
The worst part of this all is that MS does not care about past content lost on these discussions, so many times I found issues described in the docs that are gone now.
Please, pay attention to your previous mistakes, don't let the information be lost again, at lest import them as closed issue in the new system.
Sometimes progress has a cost and that is understood. However it is not impossible to migrate content from one system to another. It just takes effort.