It looks as if Logitech has discontinued the Squeezebox, a range of devices for playing music streamed from the free Logitech Media Server. Logitech also runs a streaming service on the internet, Mysqueezebox.com, which supports internet radio, Spotify integration and more.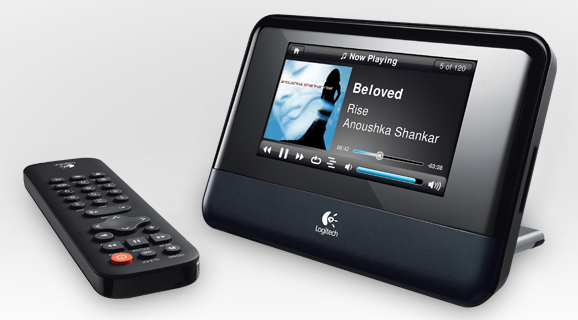 The Squeezebox devices are no longer on sale on Logitech's web site, and a press release announces the Logitech UE range. This includes wireless speakers which play music via Bluetooth, a Smart Radio that connects to internet streaming radio and other services, earphones and headphones.
But what of Squeezebox? Here is the nearest I can find to an official announcement:
We've just announced our new brand, Logitech UE, and with it merging the design/engineering capability of Logitech and the Squeezebox product with the music know how of Ultimate Ears. We are positioning this new brand to serve music lovers across a wide range of music listening device, and amongst them the Logitech® UE Smart Radio.

Important for you to know, The UE Smart Radio can play alongside your Logitech Squeezebox products, but will operate and be controlled separately and will no longer receive updates. The team is working hard on releasing in a few weeks an optional software update for existing Squeezebox Radio users. This update will allow Squeezebox Radios to upgrade to the new Logitech UE Smart Radio experience.

Rest assured that the Squeezebox platform you've been enjoying over the years will continue to provide you access to a rich world of music and we'll continue to address any questions or troubleshooting on our Logitech.com support page.
The news is sad but not surprising. Logitech is struggling with declining revenue and losses, and there are various reasons why the Squeezebox system no longer looks strategic. It works alongside iTunes but does not fit all that well with Apple products, it has always been a little bit too techie, and the era of filling huge hard drives at home with your music is probably in decline, thanks to internet streaming. I have been meaning to post about the good results I get from Google Music on the Nexus tablet, and of course there is Spotify.
I still love Squeezebox. If you want the uncompromised quality of lossless audio combined with multi-room support, where each player can play something different, it is a fantastic and cost-effective system. The Squeezebox Touch, reviewed here, is appreciated by audiophiles for its high quality audio.
Squeezebox might still be a viable for a company like Slim Devices, the original creator of the system, but makes less sense for a mass market company like Logitech, which acquired Slim Devices in 2006.
My thanks to the Squeezebox team for transforming audio at home for me and thousands of others.
Update: if you are wondering what is the future for Logitech Media Server (LMS) see this thread which has comment from a Logitech engineer. There is a new media server called UE Music Library (UEML) which is simplified compared to LMS and has no player control: the UE Radio can simply select music from the library and play it. No random play in UEML. UE Radio will not play music from LMS as far as I can tell. LMS is not going to receive major updates but will be supported with maintenance fixes for the time being.