Yesterday I attended the London launch for Service Cloud 2 from Salesforce.com. A weary but still ebullient Marc Benioff showed off his new book Behind the cloud – sure to be a bestseller if only for the copies his own company has purchased – and introduced a demo of Service Cloud 2.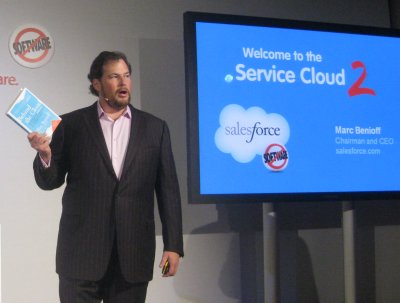 There are several elements to Service Cloud 2, which puts customer service alongside CRM as a core Salesforce offering. Traditional call centres are last-century technology, says Benioff, and today's customers go to Google, Facebook or Twitter before picking up the phone. Salesforce Knowledge is a multi-tenant knowledgebase – a specialist type of content management system – that hooks into a customer service online dashboard as well as being exposed to Google etc. Salesforce Answers is a:
complete, customisable website that facilitates question/answer style conversations between customers
The idea is to promote interaction with customers and to feedback customer knowledge (since they often provide the best support) into the knowledgebase. Salesforce Answers can be published as a Facebook site as well as on the Web. Another feature is the ability to monitor twitter, pick up what people are saying about your product, and intervene as appropriate. You can also have a twitter account to which customers can address queries.
If customers do in fact pick the phone, the same information along with customer details can be used to offer support.
We saw an impressive demo based on Dell.com's Salesforce application – Dell is a big Salesforce customer and CEO Michael Dell a friend of Benioff. A customer calls in and all their details, purchase and support history pops up automatically based, presumably, on their incoming number. A few quick taps and the representative is able to answer their question. You would imagine that every competent call centre has a similar arrangement – having said which, we've all had experience of call centres where you are passed from rep to rep repeating our details and our problem with each new contact. We also saw a Facebook page and Twitter encounter where a customer got quick and accurate responses. Of course the demo problems were nice easy ones like "How do I fit more RAM", not more intricate ones like "why does Windows freeze every third time I boot".
The core of the Salesforce proposition is that multi-tenant applications are more cost-effective than traditional in-house IT. The most striking statistic Benioff offered is that they support 63,000 customers on just 1500 Dell PCs. "What a scam traditional IT is", said Benioff, referring to the low utilisation of most in-house servers – though virtualisation also goes some way towards solving this problem.
One of Benioff's tips for success is to bring customers and prospects together for informal marketing, and this launch was an example. It was hosted at the London Stock Exchange, a great location for a business-oriented presentation, and I was surrounded by men in suits, unlike the informal attire at the more technology-focussed events I attend.
At the party afterwards there was a piece of marketing genius. Smiling staff circulated the party with armfuls of Flip video cameras. Guests were asked to say something about Salesforce.com into the camera – questions like "How has using Salesforce impacted your business" – and to agree to allow their piece to be used in marketing. In return they got a camera. I wonder if the company will disclose that last piece of information alongside the comments?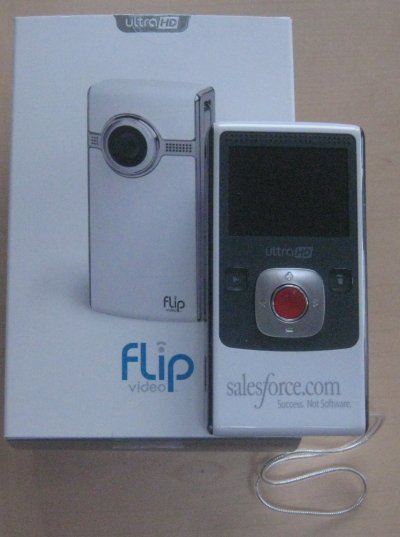 Disclosure: I got a Flip too.
While most customers are positive, I did hear some grumbles as well. Cost is one: while you save on infrastructure cost, the Salesforce model is not necessarily cheap, and extras like training are a significant cost. I also heard how the system sometimes fails, not with downtime as such, but with things like scheduled data exports (for backup) failing to run; I presume these are resource hogs and get shunted out of the way to keep the system responsive for immediate transactions. I also heard that the platform now has its own legacy and that some things work in odd ways because they are too difficult to change.
Another worry is lack of control. If something goes wrong, there is nothing you can do beyond harrying support. One customer said it was like being on a train that is late. If you are between stations you cannot even get off the train.
Still, I believe the cloud is the future because of sheer economics; it is more cost-effective. Further, when it comes to multi-tenanted applications Salesforce.com is undoubtedly the leader in its segment.
I spoke to another customer about a particularly interesting use of the platform and will post about that separately.