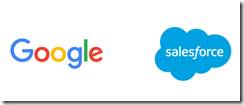 Yesterday Salesforce and Google announced a strategic partnership:
1. Salesforce named Google Cloud as "a preferred public cloud provider". Salesforce says it "continues to invest in its own data centers". However it will use public cloud infrastructure "for its core services" as well, especially in "select international markets." Why is Google Cloud Platform (GCP) just a preferred partner and not the? Well, "AWS is a great partner", as the release also notes.
2. New integrations will be introduced between Salesforce and G Suite (Gmail, Docs, Google Drive and Calendar for business), and there is a promotional offer of one year's free G Suite for Salesforce customers. Note that the release also says "restrictions apply, see here", with the see here link currently inactive.
3. Salesforce will integrate with Google Analytics.
Google has also posted about the partnership but adds little of substance to the above.
Why this alliance? On Google's side, it is keen to build momentum for its cloud platform and to catch up a little with AWS and Microsoft Azure. Getting public support from a major cloud player like Salesforce is helpful. On the Salesforce side, it is an obvious alliance following the public love-in between Adobe and Microsoft Azure. Adobe competes with Salesforce in marketing tools, and Microsoft competes with Salesforce in CRM.
Google will also hope to win customers from Microsoft Exchange, Office and Office 365. However Salesforce knows it has to integrate nicely with Microsoft's email and productivity tools as well as with G Suite. The analytics integration is a bigger deal here, thanks to the huge reach of Google's cloud data and tools.