At TechDays in Belgium Micrososft's C# designer and Technical Fellow Anders Hejlsberg spoke on trends in programming languages; you can watch the video here.
I recommend it highly, not so much because of any new or surprising content, but because in his low-key way Hejlsberg is a great communicator. The talk is mostly not about the far future, and much of what he covers relates directly to C# 4.0 and F# as found in Visual Studio 2010. Despite his personal investment in C#, Hejlsberg talks cheerfully about the benefits of F# and gives perhaps the best overview of functional programming I have heard, explaining what it is and why it is well suited to concurrency.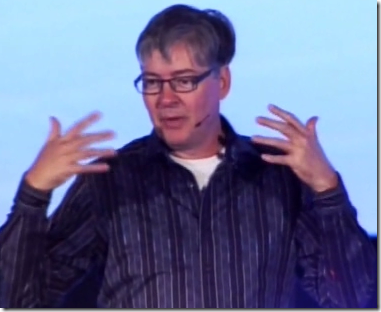 I will not try and summarise the whole talk here; but will bring out its unifying thought, which is that programming is moving towards a style that emphasises the "what" rather than the "how" of the tasks it encodes. This fits with a number of other ideas: greater abstraction, more declarative, more use of DSLs (domain-specific languages).
The example he gives early on describes how to get a count of groups in a set of data. You can do this using a somewhat manual approach, iterating through the data, identifying the groups, storing them somewhere, and incrementing the count as items belonging to each group are discovered.
Alternatively you can code it in one shot using the count keyword in LINQ or SQL (though Hejlsberg talked about LINQ). This is an example of using a DSL (Domain Specific Language), and also demonstrates a "what" rather than "how" approach to code. It is easier for another programmer to see your intention, as there is no need to analyse a set of loops and variables to discover what they do.
There is another reason to prefer this approach. Since the implementation is not specified, the compiler can more easily optimise your code; you do not care provided the result is correct. This becomes hugely important when it comes to concurrency, where we want the compiler or runtime to utilise many CPU cores if they are available. He has a screenshot of Task Manager running on a 128-core machine which apparently exists in Redmond (I can't quite read the figure for total RAM but think it may be 128GB):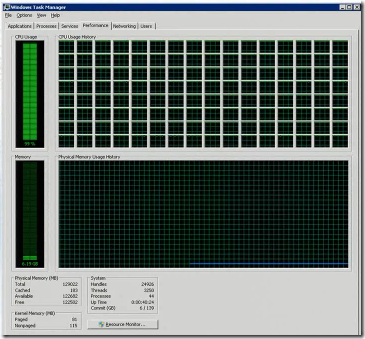 Hejlsberg says there was a language doldrums between 1995 and 2005, when many assumed that Java was the be-all and end-all. I wonder if this is a tacit admission that C#, which he was working on during that period, is not that different in philosophy from Java? The doldrums are over and we now have an explosion of new and revived languages: Ruby, Groovy, Python, Clojure, Boo, Erlang, F#, PowerShell and more. However, Hejlsberg says it makes sense for these to run on an existing framework – in practice either the Java or .NET runtime – since the benefits are so great.
Hejsberg also predicts that distinctions such as dynamic versus static languages will disappear as each language absorbs the best features from other languages. "Traditional taxonomies of languages are breaking down as languages pick paradigms from each other," he says. The new language paradigm is multi-paradigm.
Just as C# has now acquired dynamic features, we can expect it to get better support for immutability in future (borrowed from functional languages).