Today Google announced that Chrome for Mac and Linux is now fully released:
Since last December, we've been chipping away at bugs and building in new features to get the Mac and Linux versions caught up with the Windows version, and now we can finally announce that the Mac and Linux versions are ready for prime time.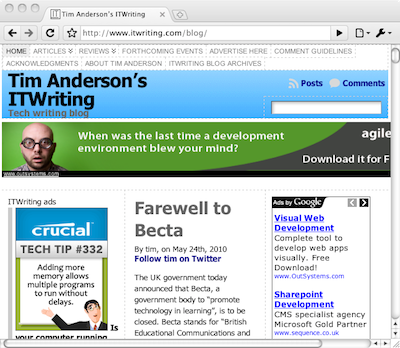 The two big stories in the browser world right now are the decline of Microsoft Internet Explorer (though it still commands more than half the market  in most stats that I see) and the rise of Google Chrome. Why do users like it? From what I've seen, they like the performance and the usability. In fact, Chrome would make a great case study on why these factors count for more than features in user satisfaction. That said, I've been using Chrome on the Mac today and while it starts up more quickly than Safari, performance overall seems similar and I doubt there will be a huge rush to switch.
In the stats for ITWriting.com, I've seen steadily increasing Chrome usage:
July 2009: 4.2%
October 2009: 4.6%
January 2010: 9.6%
May 2010: 13.7%
So far this month, IE is down to 35.3% in the stats here, behind Firefox at 35.9%.
These figures are not representative of the internet as a whole, though I'd argue that it does represent a technical readership which may well be a leading indicator.
Chrome seems to be gradually taking market share from all the major browsers, though IE is doing so badly that any defections from Firefox to Chrome are more then made up by IE defectors to Firefox, if I'm interpreting the stats correctly. This won't always be the case though, and Mozilla is vulnerable because unlike Microsoft or Apple the browser is the core of its business.
There is also a sense in which Chrome competes with Firefox for the user who has decided not to use the browser that comes with the operating system.
Chrome is strategically important to Google, not just as a browser, but as a platform for applications. It hooks into the Web Store announced at the recent Google I/O conference, and it will soon be easy to create browser applications that run offline. Google has the financial muscle to market Chrome. I'd also suggest that the momentum behind other projects, especially Android but also Google Apps, will indirectly benefit the browser.
On the Mac, it is worth noting that both Safari and Chrome use the same open source WebKit project, sponsored by Apple, which I guess is more interesting now that Google and Apple are competing fiercely in mobile.