The most interesting session at TechEd in New Orleans last month was one I could not talk about until today. It concerned the next version of Small Business Server, no date announced yet. The next SBS will come in two editions. SBS 7.0 will be conceptually similar to today's SBS, but updated to Server 2008 R2, Exchange 2010 and so on.
SBS code-name "Aurora" is the compelling one though. It is based on Windows Home Server (or at least the next version of WHS, "Vail", but with Active Directory added. There are no other apps; you are expected to use cloud services.
The reason this matters is Microsoft's work on federated Active Directory. What this means is that your local SBS simply manages users, computers and file shares, but the same user accounts also work on cloud-hosted services such as Exchange or SharePoint – or any others that support Active Directory federation.
I love this concept; it is exactly the right thing for SMEs who need to run a properly managed Windows network while using hosted email and other cloud services.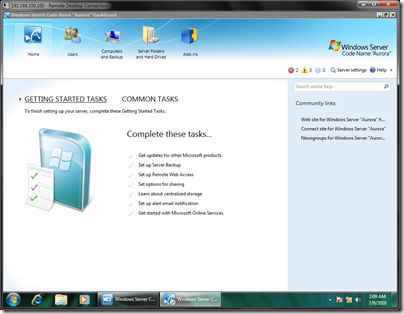 Questions remain of course. Will services other than Microsoft's own BPOS or third-party hosted Exchange and SharePoint support SBS federated Active Directory? And will Microsoft and its partners really steer small businesses in this direction, or focus on SBS 7.0?
More details in this article on The Register.
PS This version of SBS is not too far removed from what I asked for in February 2006.