Samsung has announced final details and specifications of the Galaxy Tab, a tablet device running Android 2.2 "Froyo".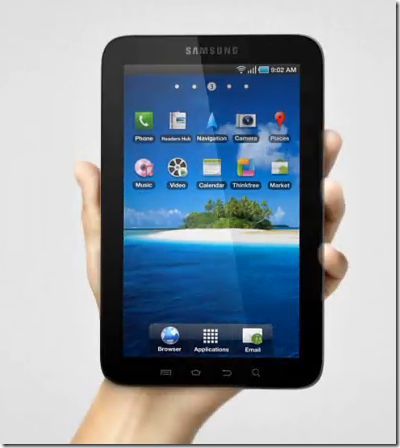 It has a 7-inch1024x600 multi-touch screen, 1.00 Ghz processor, GPS, wi-fi, 3G internet, 1.4 megapixel webcam, 7 hours battery life if playing a video (I imagine much longer than that in normal use) and 16GB or 32GB RAM plus optional MicroSD.
Apple's iPad has a 9.7-inch 1024 x 768 screen and better battery life – 10 hrs while playing a video, according to the specs.
So why would you buy a Galaxy Tab? Well, it is smaller and therefore handier, though you will squint a bit more. It has some freedoms that the iPad lacks, such as Adobe Flash, MicroSD, and FLAC playback. It has a camera. You will not need iTunes in order to interoperate with a PC.
I imagine the main reason, though, is that the Galaxy Tab will be cheaper – even though I cannot find prices anywhere, it is inevitable. This and other would-be iPads will be positioned as cheaper alternatives.
This will not harm Apple at all. It likes to occupy the premium ground and does so with great profitability.
But could the Galaxy Tab be better than an iPad? Well, it will be for certain tasks where the iPad is lacking – see above – but it will lack the careful design and attention to detail which characterises Apple's device, and of course will not be compatible with all those iPad apps – though in some cases there will be Android equivalents.
Further, all the same doubts which were expressed about the iPad before its launch apply here as well. Do you really want a smartphone and a tablet and a notebook, and if not, which one will you abandon? Is it worth yet another contract with a mobile provider just to keep your tablet connected? It is possible that although Apple can make this category work, others will struggle.
When I played briefly with a Dell Streak, a 5-inch Android tablet, I found myself thinking that it will be a good deal when they sell them off cheap. Without that incentive, it is too big for a phone, too small for much else other than watching videos on the plane.
I would like to try one of these devices, of course, but whether they will succeed is an open question.