Head over to http://www.beautyoftheweb.com/ and you can download the beta of Internet Explorer 9, which is now up and running on my Windows 7 64-bit machine and looking good so far.
So what's new? In terms of the rendering engine, this is like the last Platform Preview, but a little bit further along. During the briefing, we looked at at the experimental (and impressive) site put together by EMC, which shows 3D rotation of a motor vehicle along with other effects, put together entirely in HTML 5. At the time I only had the fourth platform preview installed, and the site did not work. Amusingly, I was advised to use Google Chrome, which worked fine. Now that I've installed the beta, the same site works in IE9, rather more smoothly than in Chrome.
What's really new though is the user interface. The two things that jump out are the adoption of a single box for search and URL entry – many users do not understand the difference anyway – and the ability to drag tabs to the taskbar to pin them there like application shortcuts. Once pinned, they support Windows 7 Jump Lists, even when the site is not active: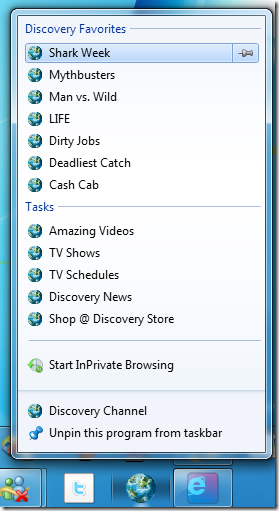 If you squint at this screenshot, you'll notice that the Discovery site, which is tweaked to use this feature, has a good-looking icon as well as a Jump List, whereas the icons adjacent to it look bad. That's because you need to create a new large favicon to support this feature, as well as optionally adding metadata to create the Jump List. None of this is any use, of course, if you use Vista; and if you use XP you cannot even install IE9.
There's also a download manager at last.
There's no doubt that IE9 is miles better than IE8. Is it better than rivals like Chrome, from which a casual observer might think it has drawn inspiration? Too soon to say; but using the official native browser does have advantages, like integration with Windows Update as well integration with the OS.
That said, I'm not personally a big fan of the single box approach, and I'll miss the permanent menus. If you press the Alt key the old File, Edit View etc magically appear, but I can't see any way to make it persist.