The Mio MiVue 688 is a high quality dashcam which will record your journeys as well as alerting you to lane drift and speed cameras.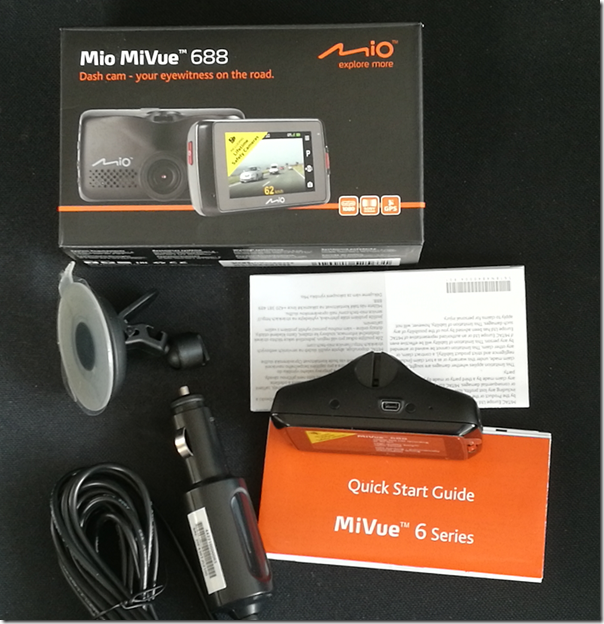 In the box is the device itself – around 90 x 45 x 37mm – together with a vehicle power adapter and a suction mount. You will need a couple more things to get going: a Micro SD memory card (8GB to 128GB) and a USB Mini-B to type A cable, presuming you want to connect it to a PC. It is always annoying to find that that you have to buy extras, though you may have some spares anyway, and also annoying that MiVue still use the older Mini-B connector which is relatively uncommon now.
The MiVue 688 has a rechargeable battery, though for full use you will want to keep it powered continuously with the adapter.
After charging, the first thing you will want to do is to set the date and time as well as your preferred distance measure. Being in the UK I set it to miles.
In doing so, you will get an idea of how the MiVue's controls work. There is a nice bright LED colour display, but it is not touch control. Instead, there are 6 buttons:
Power button on the left edge
Event button (for emergency recording) on the front right
Four function buttons on the right edge
The control system is not all that intuitive. By default the unit records when it is on. The function keys come into play when you go into the menu. The top key is the menu key; it displays or exits the current menu. The next key is Enter. The two lower keys are cursor keys. At first you might think that the buttons align with the menu item you want to operate, but they do not. Of course you are not intended to operate this fiddly menu system while driving.
The normal use is that recording starts as soon as the unit receives power, in other words when you start the engine. It then records continuously, creating 3-minute video files. If it runs out of space it overwrites old files.
When you start recording you get a view of what it is recording on the screen. After a short time, this blanks out and you just get the time. However it is still recording.
The device has a Sony Exmor video processor, does 1080p video recording and displays on a 2.7″ screen. It has an F1.8 aperture and a 140⁰ wide angle lens.
The MiVue 688 in use
I tried the MiVue on a 3-hour journey on a rather damp day. The first challenge is mounting the MiVue, the main problem being getting the power cable connected without it hanging dangerously or getting in the way. I found some short lengths of gaffer tape essential, to secure the cable to the edge of the windscreen. The MiVue cable is fortunately fairly long.
I then sited the camera towards the top of the windscreen. Again, care is needed as you do not want it to obscure your view.
I found the way the device works confusing at first. In particular, I thought that when the screen changed from the live recording to the clock, that recording had stopped. It was only when I got back and connected the device to a PC that I realised the entire journey was on video. I do think this is preferable; despite the emergency button, you want the recording to happen without having to think about it.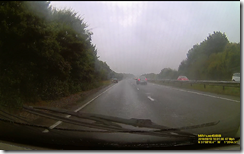 My journey passed without incident, but having a recording, given how simple this is to achieve, does make sense. If you are the innocent party in a collision, it will provide crucial evidence. Note that it records your speed and exact location as it goes, thanks to built-in GPS. A side-effect of having a dashcam may be that you are less inclined to take chances, knowing that there will be evidence.
When we parked, I removed the MiVue, because I did not want the embarrassment of risking theft of my loan gadget. This is a dilemma, as the MiVue has a parking function that will automatically record if it detects a collision when parked. If you think someone might steal the device though, that will not help you.
Annoyances
Wiring up the MiVue all felt a bit DIY and it would be good to see provision for dashcams built into modern vehicles. I also found several nits with the MiVue:
Menu system not intuitive
Old type of USB connector
Getting started leaflet barely adequate (you can download a slightly better manual)
Packaging does not make it clear that you need to supply your own memory card and USB cable – as well as Gaffer tape or equivalent
Extras
On the plus side, there are a few extras. The safety camera warnings worked, though if you have SatNav of some kind you probably already have this. There is the parking function mentioned above. The speed always shows, and since this is more accurate than my in-car speedometer this is a benefit.
A camera feature lets you take still images. Could be handy after an incident.
A motion sensor kicks in a recording automatically in the event of sudden movement. This also tends to happen when handling the unit, for example connecting it to a PC!
There are also some Advanced Driver Assistance features. Specifically, this covers Lane Departure Warning (could be a life-saver if you fell asleep), which beeps if you drift out of your lane; and Front Collision Warning System which beeps if it thinks you are driving too close to the vehicle in front.
These are handy features, but require regular calibration to work. You have to tell the MiVue where is the horizon and where is the end of your bonnet (hood). You cannot do this while driving so require a passenger.
I would have thought the AI for this kind of feature could do this calibration automatically as systems like this evolve.
MiVue Manager
You can download a MiVue Manager app to help you view your videos. I did not get on well with this. The first annoyance was that the MiVue Manager app insists on running with admin rights on Windows. Next, I found it still did not work because of missing codecs.
However I can view the videos fine using the Windows 10 built-in app, or VLC. So I gave up on the MiVue Manager.
Conclusion
The MiVue 688 will cost you around £150 and works well. As noted above though, there are some annoyances and you might prefer a touch control unit like the 658, which is a similar price.
I am still impressed. The quality of the video is very good, and this MiVue provides significant benefit at modest cost.
More information here.