Honor is Huawei's youth/consumer smartphone brand and deserves its reputation for putting out smartphones with compelling features for their price. Just released in the UK is the Honor 7x, a mid-range phone whose most striking features are a 5.93" 2160×1080 (18:9) display and dual-lens camera.
I came to respect the Honor brand when I tried the Honor 8, a gorgeous translucent blue device which at the time seemed to provide all the best features of Huawei's premium phone at a lower price. The Honor 8 is 18 months old now, but still on sale for around £70 more than a 7x (there is also an Honor 9 which I have not tried). The 5.2" 1920 x 1080 screen happens to be the perfect size for my hands.
What about the new 7x though?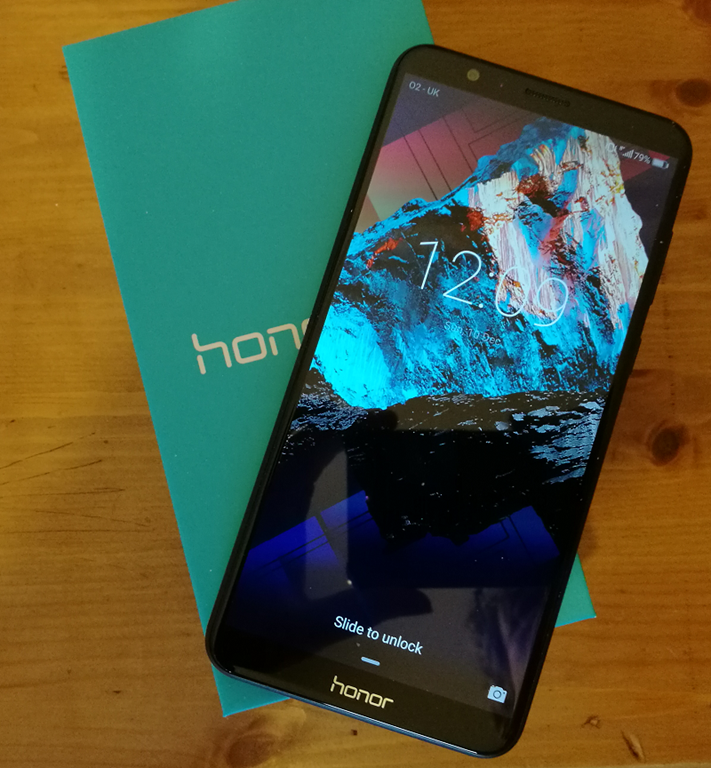 The 7x feels solid and well-made though unexciting in appearance. The smooth rear of the matt metal case is broken only by the fingerprint reader and dual camera lenses and flash. On the front there is the phone speaker and front-facing camera at the top of the screen, media speaker, microphone, headset socket and Micro-B USB along the bottom edge. The larger than average screen does make for a phone that is less comfortable to hold than a smaller device, but that is the trade-off you make.
The Kirin 659 processor has 8 ARM Cortex-A53 cores, comprised of 4 high-speed 2.38 GHz cores and 4 power-saving 1.7 GHz cores. SoC (System on a Chip) also includes an ARM Mali-T830 graphics processing unit. This is a mid-range processor which is fine for everyday use but not a powerhouse.  Benchmark performance is around 15% better than Samsung's Exynos 7 Octa 7870, found in the Galaxy A3, for example.
PC Mark came up with a score of 4930, a little behind the older Honor 8 at 5799.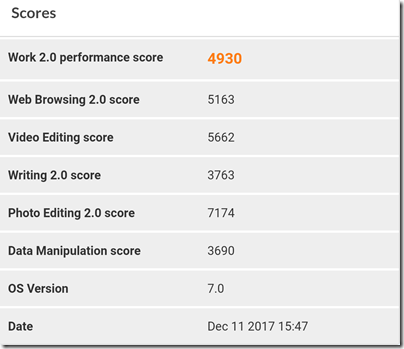 The screen resolution at 2160 x 1080 is impressive, though I found it a little dull on the default automatic brightness settings.
Music audio quality is great on headphones or high quality earbuds, but poor using the built-in loudspeaker – usually not important, but I have heard much better.
Where this phone shines is in photography. The dual lens is now well proven technology from Huawei/Honor and does make a difference, enabling better focusing and sharper images. If you enable the wide aperture in the camera, you can refocus pictures after the event, a magical feature.
If you swipe from the left in the camera app, you can select between a dozen or so modes, including Photo, Pro Photo, video, panorama, time-lapse, effects  and more. Selecting Pro Photo enables controls for metering (determines how the camera calculates the exposure), ISO, shutter speed,  exposure compensation (affects brightness) and focus mode.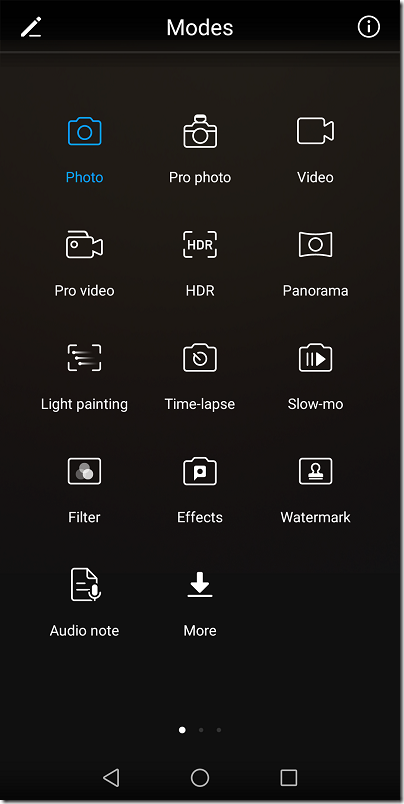 If you swipe from the right, you can access settings including photo resolution (default is 4608 x 3456), storage location, GPS tagging, object tracking and more. There is no option for RAW images though.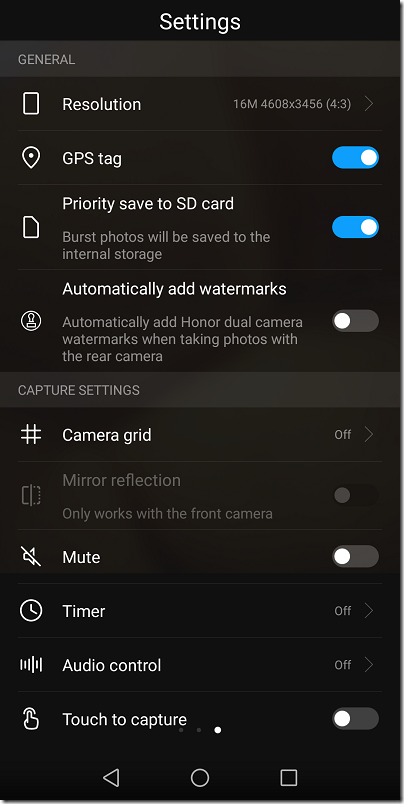 Along the top of the camera screen are settings for flash, wide aperture, portrait mode, moving picture (records a short video when you take a picture), and front/rear camera enable.
There are also a couple of features aimed at selfies or group photos, where you want to be in the picture. If you enable audio control, the camera will take a picture when you say "Cheese". If you enable gesture control (only works with the front camera), you can take a picture by raising your hand, triggering a countdown. I tried both features and they work.
How are the actual results though? Here is a snap taken with default settings on the 7x, though I've resized the image for this blog: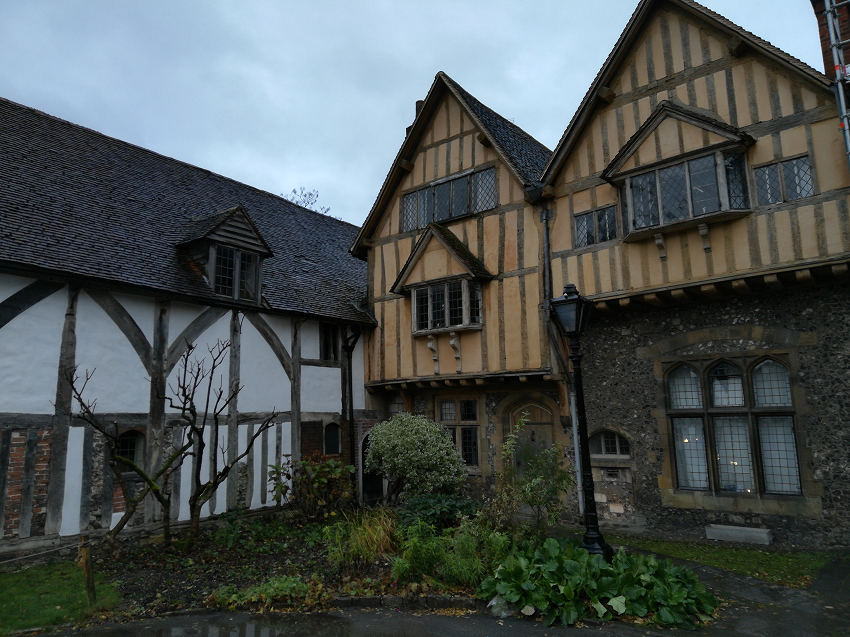 and here it is again on the Honor 8:
Personally I think the colours are a bit more natural on the Honor 8 but there is not much between them. I was also impressed with the detail when zoomed in. In the hands of an expert you could take excellent pictures with this, and those of us taking quick snaps will be happy too.
Likes, dislikes and conclusion
For 25% of the price of Apple's latest iPhone, you get a solid and capable device with above average photographic capability and a high resolution display. I also like the fact that the fingerprint reader is on the rear, even though this is against the recent trend. This makes it easy to pick up and unlock the phone with one hand, with no need for face recognition.
Still, while I would be happy to recommend the phone, I do not love it. The design is plain and functional, rather out of keeping with Honor's "for the brave" slogan. No NFC is a negative, and it is a shame Honor has provided the old micro USB instead of USB C as on the premium models.
These are minor nitpicks though and I cannot fault it for value or essential features.
Specification
| | |
| --- | --- |
| OS | Android 7 |
| Chipset | 8-core Kirin 659 (4 x 2.38GHz + 4 x 1.7 GHz) |
| Battery | 3340 mAh |
| Screen | 2160 x 1080 |
| Rear camera | Dual lens 16MP + 2MP, F/0.95 – F/16 aperture |
| Front Camera | 8MP |
| Connectivity | 802.11 b/g/n wifi, Bluetooth 4.1, USB 2.0 |
| Dimensions | 156.5mm x 75.3mm x 7.6mm |
| Weight | 165g |
| Memory | 4GB RAM, 64GB storage, microSD up to 256GB |
| SIM slots | Dual TD-LTE/FDD LTE/WCDMA/GSM SIM or SIM + microSD |
| Fingerprint reader | Rear |
| Sensors | Proximity, ambient light, compass, gravity |
| Audio | 3.5mm headset jack |
| Materials | Metal unibody design |
| Price | £269.99 |