Rovio (Angry Birds) CEO Mikael Hed spoke at Mobile World Congress in Barcelona about "Making apps profitable."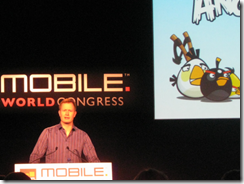 He should know – but "There is no super secret sauce to this", he said. Quality, hard work, money, and I suspect a lot of luck are in the recipe.
There were some interesting asides though. One was that the Android Market payment system, which uses Google Checkout, is not working well for Roxio.
On Android there are several challenges with the billing part. It's not possible for all customers across all carriers to buy Android content. That's why even the most successful paid content on the Android market is in the low hundreds of thousands, which is a huge disappointment. It's a problem for customers because they can't buy the content even if they want to. That leads to increases in piracy.
In response, Roxio is exploring other ways to sell its Android apps, including alternative stores and in-carrier billing.
These reservations do not apply to Apple, which manages the entire iOS platform from store to device. On the other hand, the freedom which Android offers means that there are ways to work around the issues.