Microsoft CEO Steve Ballmer, accompanied by Nokia's Stephen Elop, showed coming updates for Windows Phone 7 at a Mobile World Congress keynote last night.
A minor update due in early March will add copy and paste, and CDMA support is also coming in the first half of 2011.
The more interesting update is planned for the second half of 2011 – I'm guessing late this year – and will have multi-tasking for 3rd party apps, as well as a mobile version of Internet Explorer 9. We were told that this will feature the same HTML 5 standards support and hardware acceleration as in the desktop version.
Windows Phone VP Joe Belfiore showed the fish demo running on Windows Phone with IE9 alongside Safari on the iPhone. The iPhone fish jerk slowly across the screen.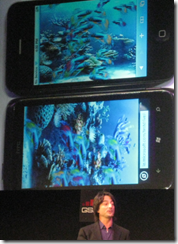 Note that Apple will likely have a new iPhone out before mobile IE9 is ready, which may well equal or exceed IE9's graphics performance.
Nevertheless, this is interesting for developers since it means that the fast "Chakra" JavaScript runtime will be available on the device. HTML and JavaScript is one route to cross-platform mobile applications.
Silverlight on Windows Phone includes a WebBrowser control which has access to isolated storage. This means you could write most of your app in cross-platform JavaScript and HTML, but wrap it in Silverlight for access to native phone features.
It is a shame though that Microsoft does not include the Sqlite local database engine found in WebKit-based mobile browsers. Sqlite is in the public domain so this may be an example of the "not invented here" syndrome. Microsoft does not even have SQL Compact Edition in Windows Phone 7, though it would not surprise me if this also appears in the autumn update. Full details are being held back until the Mix conference in April.
Although it has not been stated, it would make sense for this update to be used in the first Windows Phones from Nokia. On Sunday evening, Nokia stated its desire to deliver a Windows Phone device before the end of the year.