Apple CEO Steve Jobs says the iPad 2, announced today, is "magical, revolutionary and at an unbelievable price".
The new iPad is dual-core, has front and back cameras, and a new magnetic cover which also forms a stand. It is also 33% thinner and 15% lighter.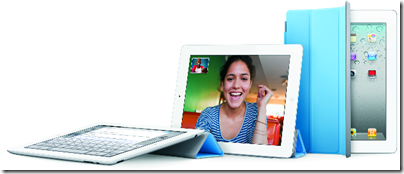 These are nice improvements, but the truth is that it will not be very different from the first one.
It was enough though for the press to announce catastrophe for the competition:
Apple just ensured that the other tablets are dead on arrival.
Here's all you need to know about the iPad 2: it's thinner, lighter, faster, got cameras and is more capable than the iPad, for the same price. Apple had dominated the tablet wars with the original iPad, and with the iPad 2 it is game over … Apple will continue to maintain or grow its market share in the tablet space, and the competition will release tablets that are not as good and cost lots more than the iPad/iPad 2. Rarely does one company in the technology sector dominate a product category so totally as Apple does the tablet space.
I am still mulling this over. There is a lot to like about the iPad – convenience, design, long battery life – but there are also annoyances; and while Dignan and Kendrick may be right, I would like to think there will be healthy competition and that at least some of the interesting devices on show at Mobile World Congress earlier this month will find a market.
Another question is how the appearance of ever more powerful smartphones will influence the tablet market. It is hard to believe that the average person will carry three devices: smartphone, tablet, laptop. Personally I would like to get it down to one, which is why I find the Motorola Atrix an interesting concept: it plugs into a laptop-like external keyboard and screen when required.
Apple's advantage though is its focus on quality and design, rather than features. Few other manufacturers have learned this lesson. There is always something not quite right; and rather than fix it, a new model six months later with something else not quite right.
There was something else interesting about today's event. iMovie for iPad 2, priced at $4.99. What is happening to the price of software, and what are the implications for developers? Something I will explore in another post shortly.
Spare a thought for Microsoft. Remember Bill Gates, telling us that one day tablets would dominate portable computing? Fumbling tablet computing may have been Microsoft's biggest mistake.