Microsoft's Ted Dworkin, Partner Progam Manager, has posted details of how the forthcoming Windows Store will work. There is also detailed new information on MSDN. It is a key piece if you care about the next version of Windows, including details of how enterprises will be able to deploy apps as well as the terms of business for independent developers.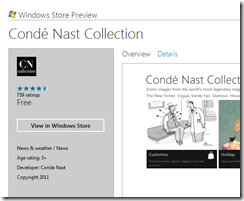 Here is a quick summary:
The store is both an app and a web site. The same content will automatically appear in both.
The store is for Metro-style apps, which run on the Windows Runtime. No word about desktop apps; my presumption is that they are excluded. The certification requirements refer only to Metro-style apps.
Apps can be offered as full-featured, limited or unlimited trial, upgradeable via in-app purchases.
Enterprise apps can be deployed through the store with access limited to employees.
Enterprise apps can also be deployed outside the store, using PowerShell scripts to domain-joined machines. Apps must be signed.
App vendors can use their own transaction engine and/or ad service if they choose, or use the built-in services for sale, in-app purchase and advertising. Subscriptions do not have to go through the store. My impression is that the initial sale does not have to be transacted through the store either but this is not 100% clear to me.
Developer registration for the store costs $49.00 for individuals or $99.00 for companies.
Revenue share is 70%, rising to 80% if you achieve over $25,000 revenue for an app.
Apps are subject to approval, but developers are given the App Certification Kit as part of the SDK. There is still scope for disagreement over the interpretation of policies.
There is an initial beta preview period during which all apps will be free. Microsoft has also annoyed most of the world's developers by restricting a First Apps Contest to those who:
… are a developer – professional, hobbyist, or student – and you are a legal resident of the 50 United States and District of Columbia, France, Germany, Japan, or India