Microsoft has has announced the release of Silverlight 5.0.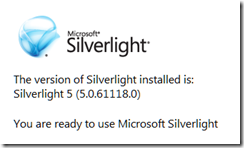 Silverlight is a cross-platform, cross-browser plug-in for Windows and Mac. It is relatively small size – less than 7MB according to Microsoft, though the Mac version seems to be bigger, with a 14MB compressed setup .dmg and apparently over 100MB once installed:
Never mind, it is a fine piece of work and has considerable capabilities, including the .NET Framework, the ability to render a GUI defined in XAML, multimedia playback, and support for applications running inside the browser or on the desktop. New in version 5 is better H.264 performance, 3D graphics, and Platform Invoke support on Windows enabling trusted applications to call the native API. Another change is that in-browser applications can also run with full trust, again only on Windows. The cross-platform idea has become increasingly diluted.
If Microsoft had come up with Silverlight early in the .NET story it might have become a major application platform. As it is, while still useful in some contexts, the technology has been side-lined by new things including HTML 5 and the Windows Runtime in the forthcoming Windows 8.
While I have huge respect for the team which created Silverlight and rapidly improved it, it now looks a sad story of reactive technology that failed to capture sufficient developer support. Microsoft invented Silverlight when Adobe Flash looked like it might take over as a universal runtime for web applications. The outcome was that Adobe evolved Flash with renewed vigour, keeping Silverlight at bay. Then Apple invented a new platform called iOS that supported neither Flash nor Silverlight, and the whole plug-in strategy began to look less compelling. Adobe has now reduced its focus on Flash, while Microsoft has been signalling a reduced role for Silverlight since its Professional Developers Conference in October 2010.
The question now is whether there will ever be a Silverlight 6.
Microsoft itself uses Silverlight across a number of products, such as administrative consoles for various server applications. Silverlight will be around for a while yet. Of course it is also the runtime for Windows Phone 7. Visual Studio LightSwitch generates Silverlight applications, and this one I am rather sad about, because it is an interesting tool that now seems to target the wrong platform. Perhaps the team will create an HTML 5 version one day.