The new Asus Transformer Prime TF201 Android tablet is winning praise for its performance and flexibility. It is driven by NVIDIA's quad-core Tegra 3 processor and can be equipped with a keyboard and dock that extends battery life and makes the device more like a laptop.
All good; but techie users are upset that the bootloader is encrypted, which means the kernel cannot be modified other than through official Asus updates.
A petition on the subject has achieved over 2000 signatures. Detailed discussion of the implications are here.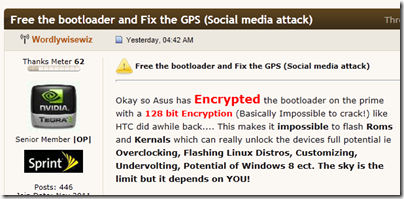 Why do vendors lock the bootloader? One reason is for support, since it increases the user's ability to mess up their machines. On the other hand, most users who hack to this extent understand what they are doing. This comment from the petition stood out for me:
We understand that custom firmware cannot be supported by ASUS, but we consider that it is our right to customise our devices in any way we wish: once bought, the Prime is our property alone to modify if we choose.
This is something we have taken for granted in the PC era, but the tablet era is looking different, with locked-down devices that give vendors more control. The success of the Apple iPad suggests that most users do not mind if the result is a good experience. It is a profound change though, and one that makes users vulnerable to vendors who are slow or reluctant to provide updates.