This is the SkyDrive Metro-style app running on my 1280 x 1024 desktop, in its default view. Note that each icon is 185 x 211 px. The actual title of each document is in relatively small text though still readable.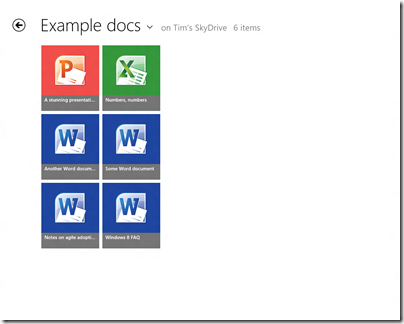 On my slate I only get two rows per screen: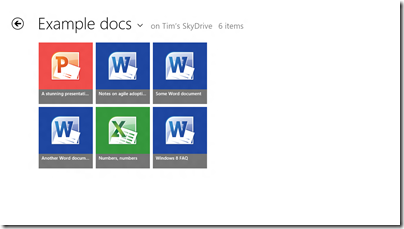 You can set it to Detail view which gives nine rows on the desktop display and six rows on the slate.
Touch-friendly, undoubtedly, but is this really best-practice design? What if you have lots of documents in a folder? I suppose it is just swipe-swipe-swipe, not helped by the fact that the SkyDrive app cannot be searched: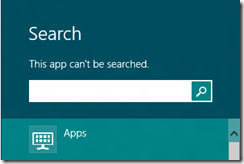 nor is there any way that I can see to sort the documents, say by last modified.
Of course you can do all these things in the touch-hostile desktop application.
Both the app and Windows 8 itself are pre-release so may improve, but I would like to see a smarter approach to browsing and selecting documents in Windows 8 Metro-style.
For more on Windows 8, see my review on The Register.