Microsoft has announced its own tablet, called Surface, for "work and play", said CEO Steve Ballmer at an event in Los Angeles yesterday.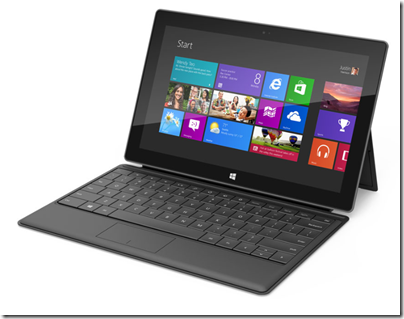 The first of what will be a family of devices has a 10.6" Corning Gorilla Glass screen, is just 9.3mm thick, and has a magnesium "VaporMg" case with a built-in stand/magnetic cover which doubles as a multitouch keyboard.
Surface comes in two forms. One runs Windows RT with an NVidia processor, which means it is the ARM version of Windows 8. There is a desktop UI alongside Metro, but the desktop is there only to run Microsoft Office (which is bundled), Explorer, and whatever other utilities Microsoft chooses to include. It is not possible to install new desktop applications. Users can only install Metro-style apps from the Windows Store.
The other runs Windows 8 Professional. Note that this x86 version is heavier (903g vs 676g), thicker (13.5mm vs 9.3mm) and more power-hungry (42 W-h vs 31.5 W-h). However, it does benefit from USB 3.0 rather than USB 2.0.
Why has Microsoft done this, and risked alienating the hardware partners on which it depends for the success of Windows?
I posted on this subject a few days ago. Yes, Microsoft's hardware partners have driven the success of Windows, but they have also been part of the problem as Apple has captured a gradually increasing proportion of the personal computer market. Problems include foistware(unwanted software) bundled with PCs and rushed designs that have too many annoyances.
With Windows Phone 7, it was not until Nokia entered the market a year after the launch that we saw hardware and design quality that does justice to the operating system. Distracted by Android, partners like HTC and Samsung brought out drab, unimaginative phones that contributed to a poor start for Microsoft's smartphone OS.
Now with Windows 8, the danger is that the same may happen again. We have seen few Windows RT designs, and evidence that vendors are having difficulty in reimagining Windows.
Until today, that is. The announcement ensures that Windows RT will win plenty of attention at launch, alongside the x86 editions, and that Microsoft has a measure of control over its own destiny, in how Windows 8 is realised in hardware.
Microsoft says that the Windows RT Surface will launch at the same time as Windows 8, but that the Intel edition will follow a few months later.
How much for a Surface? The press release says:
Suggested retail pricing will be announced closer to availability and is expected to be competitive with a comparable ARM tablet or Intel Ultrabook-class PC. OEMs will have cost and feature parity on Windows 8 and Windows RT.