Journalist Jon Honeyball remarked on Twitter that the version of Microsoft Office in Windows RT, and therefore in the first Microsoft Surface Tablet, is Office Home and Student 2013.
I was sceptical, but it is there on the spec sheet [pdf]: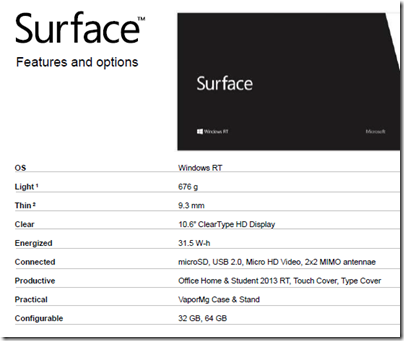 We already knew that Outlook is missing; but now it seems possible that Office in Windows RT is licensed only for non-commercial use. Here is the statement about Office 2010 Home and Student:
I own or work for a small business; can I use Office Home and Student 2010 at my work?

No. Office Home and Student 2010 is licensed only for non-commercial use for members of your household.
Such a restriction would blow so large a hole in the positioning of Windows RT as the ideal BYOD (Bring Your Own Device) for business that I am inclined to believe it will be changed for Office in Windows RT.
Then again, Office is a huge business for Microsoft and it is easy to hear the internal debate over this. "You cannot just give it away".
Another possibility is that Microsoft will come up with some licensing deal which permits use of Office in Windows RT at work, for a suitably Enterprisey fee.
Update: Note that Microsoft has already announced a few things here about Windows RT licensing:
Windows RT Virtual Desktop Access (VDA) Rights: When used as a companion of a Windows Software Assurance licensed PC, Windows RT will automatically receive extended VDA rights. These rights will provide access to a full VDI image running in the datacenter which will make Windows RT a great complementary tablet option for business customers.
Companion Device License: For customers who want to provide full flexibility for how employees access their corporate desktop across devices, we are introducing a new Companion Device License for Windows SA customers. For users of Windows Software Assurance licensed PCs this optional add-on will provide rights to access a corporate desktop either through VDI or Windows To Go on up to four personally owned devices.
This means that if you have a PC licensed with Windows Software Assurance, you can access a virtual desktop from Windows RT without further charge.
Generally, I believe Microsoft also allows you to use Remote Desktop into a physical client without an additional license, provided it is single-user. In other words, only one user at a time can use a physical Windows 7 installation, whether sitting at the machine or remotely.
None of these provisions covers Office on the client though. They are concerned only with remote desktop access of various kinds.