Microsoft Office 2013, combined with Office 365 or the new SharePoint, introduces SkyDrive Pro. This is an area where users can store documents online, similar to the public SkyDrive, but as part of an organization's SharePoint site or Office 365 team site.
One features which I was glad to see is the ability to store documents offline in a special Explorer folder. These are kept synchronized with the online storage.
Here is how this works with my preview Office 365 account. I log in to the online portal, and click the SkyDrive option in the menu.

I see my SkyDrive files.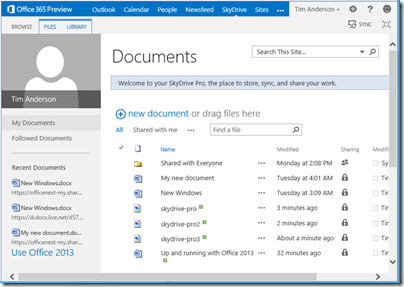 At top right is a SYNC hyperlink. Click that, and this sets up synchronization to a special Explorer folder, which in my case is called SkyDrive @ Office Next. This is not just a shortcut to a network location. The documents remain there if you are working offline.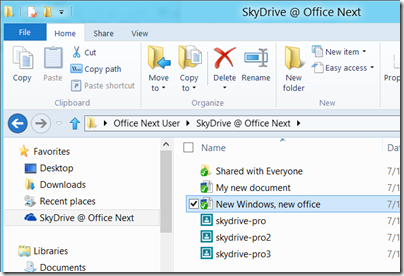 This excellent feature seems to depend on a new client called SkyDrive Pro Preview which has an icon in the notification area and also shows up in Task Manager.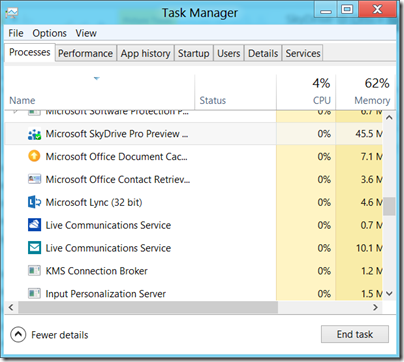 If the SkyDrive Pro client is not installed and you attempt to sync your online files, the bad old SharePoint Workspace shows up instead. The consumer SkyDrive client will not do. SharePoint Workspace also supports offline files, but does not integrate with Explorer and is prone to go wrong.
Now here is the puzzle. Microsoft loaned me a Samsung Slate with Office 2013 pre-installed, and this has SkyDrive Pro. However it also has SharePoint Workspace, and the associated Office Upload Center, which duly went into a sulk when trying to sync my SkyDrive Pro files.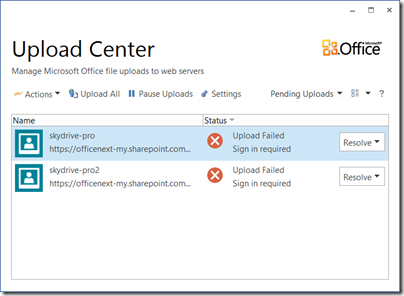 Clicking Resolve and entering my login details did nothing. However, when I clicked on the SkyDrive Pro icon instead, I got the new-style Office sign-in, following which everything worked.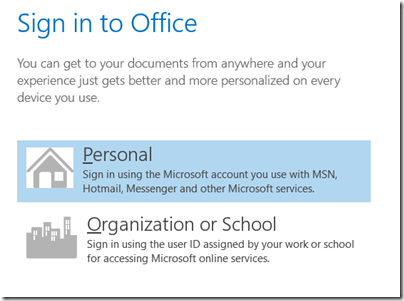 A few puzzles then. Is the SkyDrive Pro client really new, or it is just a new wrapper for the bad old SharePoint Workspace?
Further, it seems that Microsoft has not yet cracked the problem whereby users sign in, tick the "Keep me signed in" option, but still get asked to sign in repeatedly.