Microsoft has now announced that the first Windows RT tablets will come from Asus, Dell, Lenovo, Samsung, and from Microsoft itself with Surface.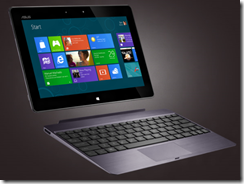 Windows 8 on ARM is a different thing to Windows 8 on Intel. On Intel, most Windows applications will run. On Windows RT, the ARM version, only Windows Runtime apps (also known at Metro-style, Modern and Windows Store) will run. There is still a desktop mode, but it is reserved for a special version of Office along with a few utilities like Explorer.
On the face of it, the Intel version is a better deal, because "you get it all." However, there are times when less is more; in fact, that phrase practically defines the success of Apple's iOS, which does not run applications coded for Mac OS X.
The problem is this. On a tablet, the Windows desktop is a horrid experience, unless you get out not only your tablet, but also your keyboard and your mouse or stylus. Even the stylus can be a problem, and having lived with Windows 8 on a Samsung Slate tablet for some months, I find a mouse works best.
We have seen this before, with the old Windows tablets starting with Windows XP. OEMs came up with clever designs with twist screens and styluses which clip into the side. These machines certainly have their uses, but they were not mainstream and they were not cheap. Intel Windows 8 tablets will have all the same problems. The poor experience offered by the Windows desktop user interface with touch was a key reason why Microsoft came up with the radical WinRT alternative.
Windows RT on the other hand promises a better tablet experience. with the additional bonus of longer battery life and a lighter, more efficient device. You cannot install desktop apps, but if the Windows 8 ecosystem fails to come up with WinRT apps to cover the essential computing activities, then the Windows 8 project will have failed in its goals.
There is also Microsoft Office of course, which makes some effort to support touch control though it could be better. Still, I would rather have Office which at least has been designed with the knowledge that some users will be controlling it with touch, than all those other desktop applications which presume keyboard and mouse.
The importance of having Office there is that it makes the difference between having to have a laptop with you as well while on the road, and being able to get all your work done on the tablet alone.
This issue does not seem to be well understood either by Microsoft's OEM partners nor by the general public. I do not blame the latter. On the high street or at the airport, there will be rows of Windows 8 tablets with similar Start screens, and the difference between Windows RT and Windows Intel will be hard to convey. I can imagine salespeople saying, "You should get this one, it is the full Windows," and steering customers towards the awkward, confusing experience that is Windows 8 on an Intel tablet.
One disappointing remark buried in the announcement:
Over 90% of the RTM applications in the Windows Store support Windows RT
That means 10% of WinRT apps currently do not support ARM, presumably because there is some native x86 code in there.