Now that I have a lovely ITWriting.com App I thought I should check out whether it is ready to fly.
I therefore ran the App Certification Kit that installs with Visual Studio 2012.

The tool asks you to select an installed app and then exercises it. I saw my app open, though I did not see it get beyond the first screen.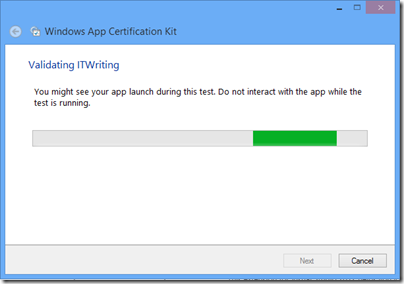 Eventually – bad news: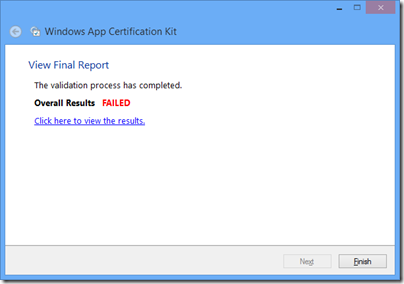 However, there is only one thing wrong with it:

Yes, the version installed is the debug build. I can fix this simply by rebuilding in release configuration.
What does the Kit test? Here is the list:
Crashes and hangs test
App manifest compliance test
Windows security features test
Supported API test
Performance test
App manifest resources test
Debug configuration test
File encoding
Direct3D feature level support
App Capabilities test
Windows Runtime metadata validation
That sounds most impressive and makes a great list for you to show to your customer.
I am sceptical though. If the app was not exercised beyond the opening screen, might it not be a bit buggy after all?
I inserted the following line of code into the the Click event handler for reading a blog:
int iCrash = 1 / string.Empty.Length;
I then rebuilt the app in release mode and ran the App Certification Test. Great news!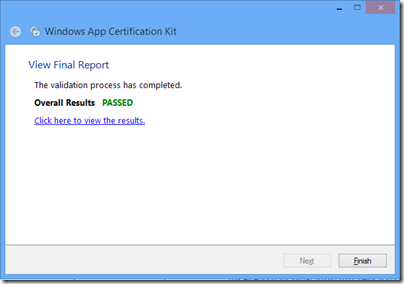 and specifically: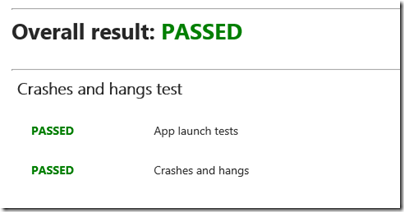 Thanks though to my umm, bug-unfix, the app crashes whenever I click to read a blog.
I mention this not to poke fun at the App Certification Kit, but to observe that it does not do a good job of automatically detecting crashes and hangs.
The implication is that the human testers are the ones who will do this before an app is admitted to the store. I think they would find my obvious bug; but how much time will they have to test every feature of an app?