Nokia's CEO Stephen Elop announced the Lumia 820 and 920 yesterday in New York; new versions of its high-end Windows smartphones and the first to run the forthcoming Windows Phone 8 operating system. Windows Phone 8 runs the same kernel as Windows 8 on PCs and is a significant step towards unification of Microsoft's development platform.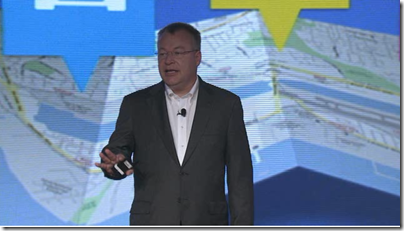 Among the key features announced yesterday:
Wireless charging with the Qi standard and a couple of deals to place charging points in public places. The London Heathrow Virgin Atlantic lounge and the Coffee Bean & Tea Leaf chain will have charging points; not much, but a start. Wireless charging accessories include the JBL PowerUP which combines wireless charging and an audio dock.
PureView imaging technology. This is Nokia's brand name for a bunch of photo features. Most significant is "floating lens technology" on the larger 920 which, Nokia claims, overcomes camera shake to enable the camera to take in "five times more light"; think of it as a virtual tripod that allows longer exposure without motion blur. If it works it is a huge feature for photo enthusiasts.
City Lens augmented reality which overlays the view through the phone's camera with data about what to do and where to go; apparently there is data for indoor as well as outdoor locations.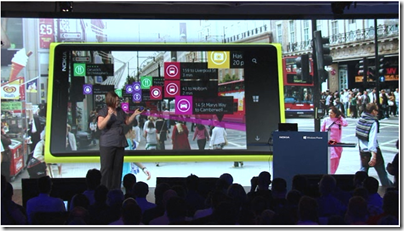 Synaptics ClearPad touch which enables gloved finger support. Since Synaptics is a third-party I guess this feature is unlikely to be exclusive to Nokia for long.
Windows Phone 8 operating system shown off by Microsoft's Joe Belfiore, including more customizable Live Tiles and a "Blink" feature from Microsoft Research which takes multiple shots in quick succession to enable interesting features like avoiding closed eyes and allowing after-the-event editing using alternate shots.
Screenshots are now a built-in feature. Who cares? Journalists of course; non-availability of this trivial feature meant fewer screenshots of Windows Phone 7 on the web.
Lumia 920 has a 4.5 inch screen, 1.5Ghz dual core Snapdragon S4, front and rear cameras, 1GB RAM, 32GB storage.
Lumia 820 has a 4.3 inch screen,  1.5 Ghz dual core Snapdragon S4, front and rear cameras, 1GB RAM, 8GB storage, microSD slot.
The big disappointment yesterday: no announcement concerning price or availability. Here is what the press release says:
Both phones will be available in pentaband LTE and HSPA+ variants and are expected to start shipping in select markets later in the year. Nokia will announce pricing and specific roll-out dates country by country when sales are due to begin.
Worries about a delay were not relieved by Microsoft's announcement that the Windows Phone SDK preview will be available to select developers from September 12. "Next Wednesday I'll share detailed instructions on how current Windows Phone developers with published apps can apply. But I do want to set your expectations that program access will be limited," says Microsoft's Todd Bix. He adds that, "The full Windows Phone 8 SDK will be made publically available later this year when we unveil Windows Phone 8."
That suggests a considerable wait before availability. Even if the Lumias go on sale the same day that the SDK is final, it sounds like November at best; and that gives developers no time at all to work with the new SDK before launch. Key developers have early access of course.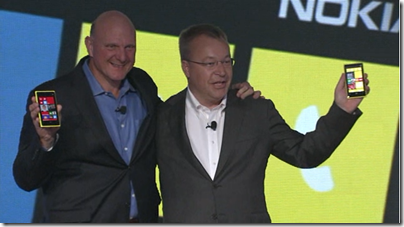 Overall the event was less than it should have been, at a time when Android looks vulnerable thanks to Apple's patent win over Samsung last month.
In some ways though, Nokia's announcements have little to do with the key questions over Nokia's Lumia range and Windows Phone 8. Quality is one issue; the launch of the Lumia 800 was damaged by the device's poor battery life and tendency to sulk and become unchargeable; the rumour is that return rates were unusually high. The knock-on effect is to make it hard for retailers to recommend it to their customers, though firmware updates eventually improved matters. How is battery life on the 820 and 920? What has been done to address quality issues?
Another question, and to me the biggest one, is how Windows 8 for PCs will fare in the market and the impact it will have on Windows Phone. The more time I spend with Windows 8 the more I like it, especially on a tablet, but also on the desktop. There is a barrier to adoption though as the new user interface is a demanding transition for some users. If Windows 8 tablets succeed, there will be instant recognition for the phone user interface and users will have a reason to demand it over iPhone or Android, something that has been lacking up to now.
On the other hand, if appreciation for the nice features of Windows 8 is drowned out by a chorus of "give us back the Start menu", while vendors focus on expensive fiddly hybrids rather than simple, lightweight tablets, then I doubt Windows Phone 8 will take off either.
Currently I use a Lumia as my main smartphone and (battery life aside) get on well with it. Nokia's experience with the operating system should mean that this new generation is better, and the phones look good. As Elop himself said though, this is all about ecosystems, and the viability of his third ecosystem is still in the balance.