Microsoft's free Hyper-V Server is a great bargain though I am beginning to think the company is pulling back on the idea. It is there for download; but the home page makes no mention of the fact that it is free, and the download page calls it trial software:

Further, support information for this specific edition is hard to come by. Here is one thing I discovered though: there is no in-place upgrade from Hyper-V Server 2008 R2, though the setup teases. This is what you get. First, an offer to upgrade in-place: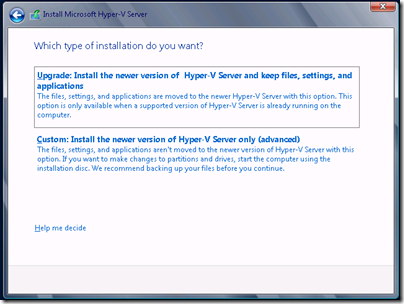 with the text, "This option is only available when a supported version of Hyper-V Server is already running on this computer".
and then the bad news: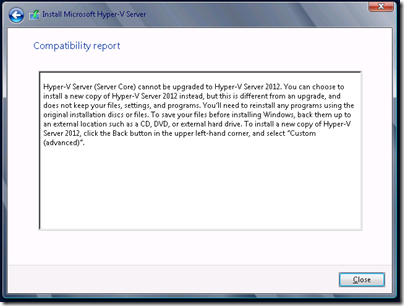 which in case you cannot read it says,  "Hyper-V Server (Server Core) cannot be upgraded to Hyper-V Server 2012".
This document, which covers in-place upgrade options for Server 2012, does not even mention Hyper-V Server. It does say this about Server Core, on which Hyper-V Server is based:
Upgrades that switch from a Server Core installation to the Server with a GUI mode of Windows Server 2012 in one step (and vice versa) are not supported. However, after upgrade is complete, Windows Server 2012 allows you to switch freely between Server Core and Server with a GUI modes.
Note that it says "in one step", suggesting that an upgrade from Server Core to Sever Core should work; then you can add the GUI later if you want. In the case of Hyper-V Server, there is no GUI option anyway; so you would have thought it should be OK. Given the lack of attention to this edition generally though, I wonder if it is a victim of "it's the free version, let's not bother".
Incidentally, in-place upgrade from Hyper-V Server 2008 to Hyper-V Server 2008 R2 worked fine.