Regular readers will recall that I wrote a simple blog reader for Windows 8, or rather adapted Microsoft's sample. The details are here.
This is a Windows Store app – a description I am trying to get used to after being assured by Microsoft developer division Corp VP Soma Somasegar that this really is what we should call them – though my topic is really the design style, which used to be called Metro but is now, hmm, Windows Store app design style?
No matter, the subject that caught my attention is that typical Windows Store apps have low information density. This seems to be partly due to Microsoft's design guidelines and samples, and partly due to the default controls which are so boldly drawn and widely spaced that you end up with little information to view.
Part of the rationale is to make touch targets easy to hit with fat fingers, but it seems to go beyond that. We should bear in mind that Windows Store apps will also be used on screens that lack touch input.
I am writing this on a Windows 8 box with a 1920 x 1080 display. Here is my blog reader, which displays a mere 7 items in the list of posts: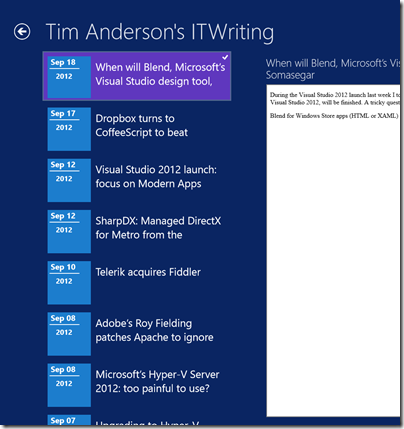 This was based on Microsoft's sample, and the font sizes and spacing come from there. I had a poke around, and after a certain amount of effort figuring out which values to change in the list's item template, came up with a slightly denser list which manages to show 14 items in the list. The items are still easily large enough to tap with confidence.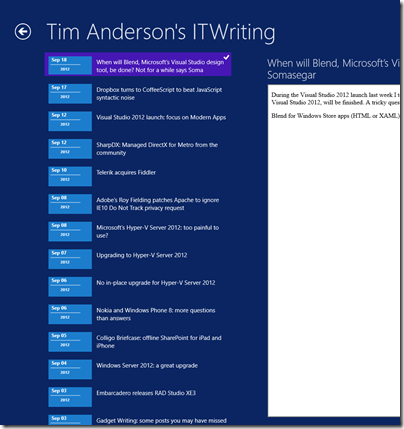 Games aside though, I am noticing that other Windows Store apps also have low information density. Tweetro, for example, a Twitter client, shows only 11 tweets to view on my large display.
The densest display I can find quickly is in Wordament, which is a game but a text-centric one: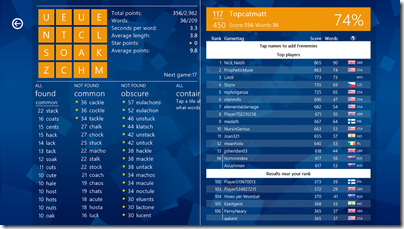 I have noticed this low information density issue less with iPad apps. Two reasons. One is that iOS does not push you in the same way towards such extremely large-looking apps. The other is that you only run iOS on either iPhone or iPad, not on large desktop displays.
Is Windows 8 pushing developers too far towards apps with low information density, or has Microsoft got it right? It is true that developers historically have often tried to push too much information onto single screens, while designers mitigate this with more white space and better layouts. I wonder though whether Windows 8 store apps have swung too far in the opposite direction.