Gartner has joined IDC in releasing figures showing a steep drop in PC sales for the first quarter of 2013.
Worldwide PC shipments totalled 79.2 million units in the first quarter of 2013, an 11.2 per cent decline from the first quarter of 2012, according to preliminary results by Gartner, Inc. Global PC shipments went below 80 million units for the first time since the second quarter of 2009. All regions showed a decrease in shipments, with the EMEA region experiencing the steepest decline.
says the release. In EMEA the decline was 16%. In the US, the decline was only 9.6%, but marked the 6 consecutive quarter of decline.
Gartner does not give worldwide figures for Apple, but says that its shipments grew by 7.4% in the US, which is a particularly strong market for Apple, giving it an 11.6% market share.
One bright spot for Microsoft:
Unlike the consumer PC segment, the professional PC market, which accounts for about half of overall PC shipments, has seen growth, driven by continuing PC refreshes.
That will please the folk at the event I am attending right now, the Microsoft Management Summit in Las Vegas, which is about managing servers, PCs and other devices in the enterprise. The consumerisation of IT is real, and so is Bring Your Own Device, but never underestimate the extent to which Windows is embedded in business.
Still, does the overall decline prove that Windows 8 was a huge mistake, and that Windows/Microsoft is now set for long-term decline?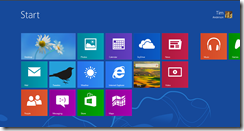 Not necessarily. There is another way to look at these figures, which is that Microsoft was correct to conclude, back when Windows 8 was planned, that tablets and touch devices would erode the traditional PC market, and that it had to take the risk of reshaping its desktop operating system accordingly.
It is plausible, even likely, that PC sales would not have declined so fast if Windows 8 had been less radical. On the other hand, the long term cost of not reshaping the Windows UI for touch, nor introducing the app store model of software deployment, would probably be greater.
Put another way, the Windows 8 experiment means that PC sales may eventually stop declining, whereas without it they would continue to trend download, even though the curve for this last quarter might be less shocking.
Even if you accept this reasoning, you can still argue that the Windows 8 tablet personality is so poorly executed that it cannot compete with iOS and Android devices. Most Windows 8 users live on the desktop, even those with touch screens and tablets. I am seeing a lot of Surface Pro here in Vegas, with users loving its portability, performance, and elegant keyboard cover, but I see it being used like a laptop, not like a tablet.
Microsoft undoubtedly made mistakes in the initial release of Windows 8, the biggest problem being that the Windows Runtime side, which supports the tablet personality, was rushed out and is really not finished. Creating excellent and good-looking apps is harder than it should be, which is one reason why there are so few.
The Windows 8 experience for new users, especially those with long familiarity with earlier versions, is so poor that many prefer to stick with Windows 7. A few tweaks and compromises would have made this easier.
Windows RT, the ARM based edition which runs only "Modern" apps and Office, is spoilt by poor performance as well as the lack of good apps. The absence of Outlook from Office in Windows RT spoils its for the business market, where it is potentially attractive as a cost-effective, secure tablet operating system.
Microsoft's OEM and retail partners do not seem to know how to sell Windows 8.
When I put these points to some Microsoft folk informally here at MMS the answer I got was "Blue will make you happy." Blue, according to these guys, is not the code name for a new version of Windows. Rather, it is a process of incremental updates which users will get automatically. It is well-known of course that significant Windows 8 updates are on the way, and builds have been leaked.
Windows 8 has made a bad start, but it is not all bad. The desktop side (which is what most of us use most of the time) improves on Windows 7, and it is plausible that a combination of user learning along with updates that make the transition to the new Start screen less jarring will make adoption easier.
Equally, the Windows Runtime side will get better. I expect to see new and improved components for developers building apps, and better reliability and performance. Outlook is rumoured to be coming to Windows RT, and at some point we may also see versions of Office applications appear in the Modern UI.
Windows RT will have a tough fight with Intel-based tablets, but users will win either way, since next-generation ARM chipsets are much faster and Intel is making great strides with low-power, high-performance chipsets of its own.
Incidentally, Windows RT is not quite dead. I heard a questioner here at MMS ask questions about how to deploy their forthcoming purchase of a "large quantity" of RT devices.
Microsoft is at times a stumbling giant, but it is stumbling in the right direction with Windows 8, and it may yet work out. Even if by then it is called Windows 9.