2013 saw the launch of Google Now, a service which aspires to alert you to information you care about at just the right time. Rather than mechanical reminders of events 15 minutes before start time, Google Now promises to take into account location, when you are likely to have to leave to arrive where you want to be, and personal preferences. Much of its intelligence is inferred from what Google knows about you through your browsing patterns, searches, location, social media connections and interactions, and (following Google's acquisition of Nest, which makes home monitoring kit) who knows what other data that might be gathered.
It is obvious that users are being invited to make a deal. Broadly, the offer is that if you hand over as much of your personal data to Google as you can bear, then in return you will get services that will make your life easier. The price you pay, loss of privacy aside, is more targeted advertising.
There could be other hidden costs. Insurance is one that intrigues me. If insurance companies know everything about you, they may be able to predict more accurately what bad things are likely to happen to you and make insuring against them prohibitively expensive.
Another issue is that the more you use Google Now, the more benefit there is in using Google services versus their competitors. This is another example of the winner-takes-all effect which is commonplace in computing, though it is a different mechanism. It is similar to the competitive advantage Google has already won in search: it has more data, therefore it can more easily refine and personalise search results, therefore it gets more data. However this advantage is now extended to calendar, smartphone, social media, online shopping and other functions. I would expect more future debate on whether it is fair for one company to hold all these data. I have argued before about Google and the case for regulation.
This is all relatively new, and there may be – probably are – other downsides that we have not thought of.
Microsoft in 2013 chose to highlight the privacy risks (among other claimed deficiencies) of engaging with Google through its Scroogled campaign.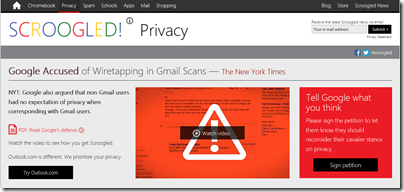 Some of the concerns raised are valid; but Microsoft is the wrong entity to do this, and the campaign betrays its concern over more mundane risks like losing business: Windows to Android or Chrome OS, Office to Google Docs, and so on. Negative advertising rarely impresses, and I doubt that Scroogled will do much either to promote Microsoft's services or to disrupt Google. It is also rather an embarrassment.
The red box above suits my theme though. What comes to mind is what in hindsight is one of the most amusing examples of wrong-headed legislation in history. In 1865 the British Parliament passed the first of three Locomotive Acts regulating "road locomotives" or horseless carriages. It limited speed to 4 mph in the country and 2 mph in the town, and required a man carrying a red flag to walk in front of certain types of vehicles.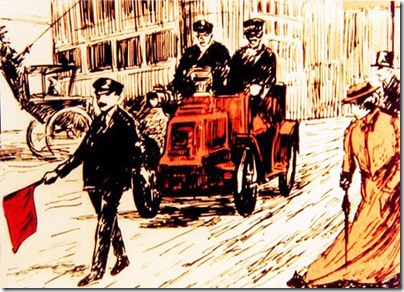 The reason this is so amusing is that having someone walk in front of a motorised vehicle limits the speed of the vehicle to that of the pedestrian, negating its chief benefit.
How could legislators be so stupid? The answer is that they were not stupid and they correctly identified real risks. Motor vehicles can and do cause death and mayhem. They have changed our landscape, in many ways for the worse, and caused untold pollution.
At the same time, the motor vehicle has been a huge advance in civilisation, enabling social interaction, trade and leisure opportunities that we could not now bear to lose. The legislators saw the risks, but had insufficient vision to see the benefits – except that over time, and inevitably, speed limits and other restrictions were relaxed so that motor vehicles were able to deliver the benefits of which they were capable.
My reflection is whether the fears into which the Scroogled campaign attempts to tap are similar to those of the Red Flag legislators. The debate around privacy and data sharing should not be driven by fear, but rather about how to enable the benefits while figuring out what is necessary in terms of regulation. And there is undoubtedly a need for some regulation, just as there is today for motor vehicles – speed limits, safety belts, parking restrictions and all the rest.
Returning for a moment to Microsoft: it seems to me that another risk of its Scroogling efforts is that it positions itself as the red flag rather than the horseless carriage. How is that going to look ten years from now?