Microsoft has removed some friction from developing for the Windows Store (whether phone or Windows 8) by removing the requirement to pay an annual subscription:
As we continue to execute on the vision to integrate the Windows and Windows Phone developer experiences, we have taken another step by moving to a one-time lifelong Dev Center registration fee.
says Microsoft's Todd Brix in a post today. He adds that the 600,000 developers already registered are covered, with no additional fee required.
How much is the fee? Brix does not say, and I could not find it quickly, so I started the signup process. I was offered individual registration for just £12.00. A company registration is £65.00.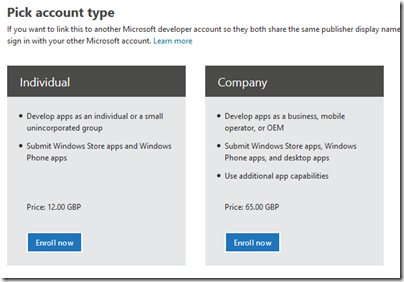 Both fees are of course negligible for a developer, compared to the cost of developing an app that is worth installing. Considering that Microsoft has had problems with junk apps filling its store, you could argue that fees are justifiable as a means of restraining the flow of meaningless or malicious apps.
The counter-argument is that fees deter developers from getting started, and that today's hobbyist may come up with the next Minecraft. It is better to control quality with a robust checking process before apps are admitted into the store.
I had a quick glance today, and have the impression that Microsoft has made progress in removing the worst offenders, following some agitation at the end of last month.
Microsoft is laying the foundation for another go at its app platform with the launch of Windows 9, about which we will hear more in a couple of weeks time.