Earlier this week I attended BoxDEV in San Francisco, along with around 1500 developers and some illustrious guests: Eric Schmidt from Google and Marc Benioff from Salesforce.
Schmidt was interviewed by Box CEO Aaron Levie. "Randomly watching and surveilling what's going over the internet and invading the privacy of American citizens is not OK." said Schmidt; but he was not talking about Google, rather about the NSA. "Encryption is the solution" he said. It was all rather bizarre, as the king of data gatherers promised to protect our privacy, but he also made some fun comments about how most enterprise IT spend (90-95%) goes on legacy systems that will be replaced by cloud and mobile. A future in which two or three companies run all the world's IT? Some more quotes on the Reg here.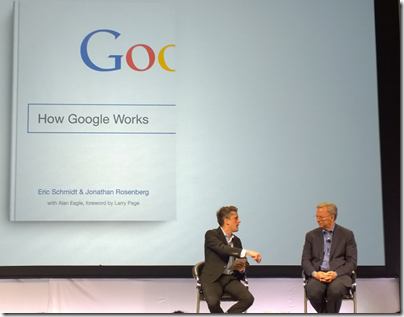 What of Box though? Most people (individuals that is) probably think of Box as a cloud storage competitor and an alternative to DropBox, OneDrive or Google Drive. So it is; but the company sees itself as an enterprise collaboration platform rather than a commodity storage provider. Levie expressed the company's intended differentiation neatly in the closing Q&A:
We build enterprise software with consumer grade experiences. There is not a lot of competition.
Box is working hard at ticking compliance boxes (sorry) and providing a service with which enterprises are comfortable.
This wasn't a big event for announcements, but the company did present Box Developer Edition; a confusing name in my opinion as it sounds like a Box account for test and development but it is not; it is a new type of Box application where you can provision your own users. The system creates shadow Box users under the covers, but it gives the illusion of a fully custom Box platform.
There are also new mobile SDKs. Box has split its SDK into modules, covering Content (the core), Browse, Share and Preview. The latter three include UI components as well as a non-visual wrapper for what is ultimately a REST API into its system. The Content and Browse SDKs support Windows Phone as well as iOS and Android, but Share and Preview are iOS/Android only. Microsoft is a Box partner though (and a sponsor of the event); it would not surprise me to see a Universal App SDK from Box in due course.
The Box View API is particularly interesting since it lets you render the content of numerous file formats as HTML. Getting this sort of stuff to work correctly is a challenge and it does add a lot of value to content-oriented applications. There are limitations. For example, if you have a PowerPoint document with an embedded video, the video will not render. There is some impressive technology here though, and Box is focusing on further improving it with acquisitions like that of Verold last week, which brings interactive 3D viewing to the platform.
I had a chat with Senior VP of Engineering Sam Schillace – he was one of the founders of Writely, a web-based word processor which was acquired by Google, and ported from C# to become the basis for an important part of Google Docs. Schillace is intimately familiar with the challenges of working with Microsoft Office formats and I've written up some of his remarks for the Register in a piece which will appear shortly.
I was also interested to note how many of the features of Box are also in SharePoint and Office 365. Again, I've covered this for the Register, but will say that it is just as well for Box that parts of SharePoint remain problematic, particularly the desktop sync aspect. The complexity of SharePoint is another issue. Box does less than SharePoint in many respects (there is no equivalent to the Office Web Apps, for example, which let you edit in the browser) but if Box does less, but more reliably and with a better user experience, it can still succeed. On the other hand, if Microsoft manages to get SharePoint working really sweetly, particularly in its Office 365 guise, it will be tough for Box to compete, especially as Microsoft builds features like Office Delve which does intelligent search in SharePoint online and hooks into Office 365/Azure Active Directory groups and "social signals" from other parts of Office 365 such as Yammer.
This is a young, smart company though and capable of keeping ahead if it remains nimble.
Finally I must mention the closing Q&A with Levie. There were plenty of daft questions, one of which was "Did Microsoft sponsor BoxDEV so that you couldn't make fun of them this year?"
"Satya Nadella isn't as funny as Steve Ballmer," says Levie, but added, "we have changed how we talk about Microsoft because Microsoft has changed as a company."
A though-provoking remark on the eve of Build, which is on next week here in San Francisco.