I got involved in looking at a PC where a few Office 365 problems had arisen following an upgrade to Windows 10 (prompted by Microsoft supposedly ending its free upgrade offer).
In particular, SharePoint online was crashing Internet Explorer. Internet Explorer? Don't Windows 10 users stick to Edge?
Unfortunately Edge is problematic with certain sites. It works OK with Office 365 but there are some issues. For example, open a SharePoint document library in IE and you get the very useful option to "Open with Explorer", an Explorer UI for your cloud-hosted files.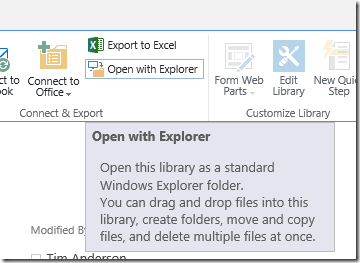 Try this in Edge and you get: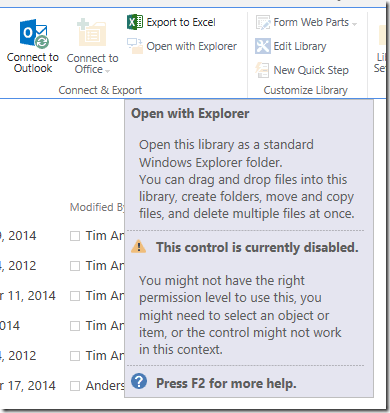 Note how the help information does not tell you how to fix the problem.
For reasons like this, the user still had a shortcut to SharePoint online in IE on the Windows 10 taskbar. Click it though, and IE would crash with its "Internet Explorer has stopped working" dialog.
Probably an add-on, I thought. This was proved right when I opened IE with add-ons disabled – try running:
"%ProgramFiles%\Internet Explorer\iexplore.exe" –extoff
– and found that SharePoint online worked fine. After some experimentation, I discovered that the SharePoint Export Database Launcher add-on was causing the problem. Disabled it and SharePoint worked fine.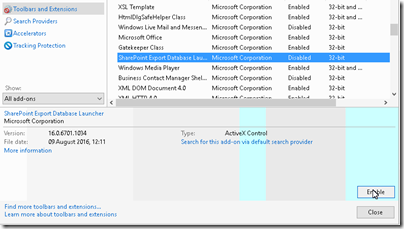 This add-on is installed by Microsoft Office. It prompts a couple of thoughts.
I do not know if every Windows 10 PC is similarly afflicted, but problems like this do suggest a lack of quality control in some areas. It is also unfortunate that when you install Office 365 Professional Plus you do not get any options; you get everything. Including, in this case, a buggy add-on.
Second, I wish Microsoft would pause from its energetic feature work with Office 365 and sort out the core functionality of working with documents in SharePoint online. As someone pointed out to me on Twitter today, the situation with OneDrive sync clients remains a mess, and when it goes wrong it is not always easy to troubleshoot.
Incidentally, I cannot resist telling you how to fix another OneDrive for Business issue. Here's the problem: you open a document library in a web browser (even works in Edge), hit Sync, and OneDrive for Business fires up. If this is the first document library to be synced you might be prompted to sign in. So you enter your email address, hit Next, and then enter your password and click Sign in. Sometimes though nothing happens and you can't sign in. What's the fix? Don't click Sign-in, press Enter!