At the Expo here at Microsoft's Ignite you can see Azure Stack – though behind glass.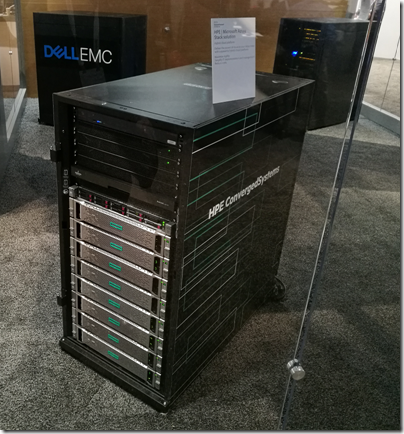 Azure Stack is Microsoft's on-premises edition of Azure, a private cloud in a box. Technical Preview 2 has just been released, with two new services: Azure Queue Storage and Azure Key Vault. You can try it out on a single server just to get a feel for it; the company calls this a "one node proof of concept".
Azure Stack will be delivered as an appliance, hence the exhibition here. There are boxes from Dell, HP Enterprise and Lenovo on display. General availability is planned for mid-2017 according to the folk on the stand.
There is plenty of power in one of these small racks, but what if there is a fire or some other disaster? Microsoft recommends purchasing at least two, and locating them some miles from one another, so you can set up resilience just as you can between Azure regions.
Incidentally, the Expo at Ignite seems rather quiet; it is not on the way to anything other than itself, and I have to allow 10-15 minutes to walk there from the press room. I imagine the third party exhibitors may be disappointed by the attendance, though I may just have picked a quiet time. There is a huge section with Microsoft stands and this is a great way to meet some of the people on the various teams and get answers to your questions.