I have been covering Microsoft for quite a few years and it was always clear to me that the must-attend event, if you want to keep up with the company, was the Professional Developer Conference (PDC), and after that was scrapped, its successor developer event Build.
The reason for this is that at PDC or Build the company gives in-depth presentations on the latest features of its developer platform. Pivotal events that I recall include PDC 2003 where we learned about the "Three pillars of Longhorn", PDC 2008 where Windows 7 was previewed, and Build 2011 where Windows 8 was unveiled.
Two of these three worked out badly for the company, and one fantastically well. The three pillars of Longhorn became the two pillars of Vista after a notorious "reset" of Windows development, while Windows 8 was so hated in the PC community that Microsoft retreated to the more familiar and desktop-oriented Windows 10 a few years later.
Windows 7 on the other hand was such a success that even today, more than a year after the release of Windows 10, many PCs ship with Windows 7 pre-loaded and 10 as an upgrade option. Well, maybe that is a sign of failure (of the later versions) rather than success; but however you choose to spin it, it has been hugely popular.
Perhaps I should also mention PDC 2000 where the .NET Framework was announced (strictly, it was announced at TechEd Europe the previous week, but I digress). That one worked out pretty well I guess, though not without internal conflict between the C++ folk and the .NET Folk – played out in both the Longhorn story and the Windows 8 story.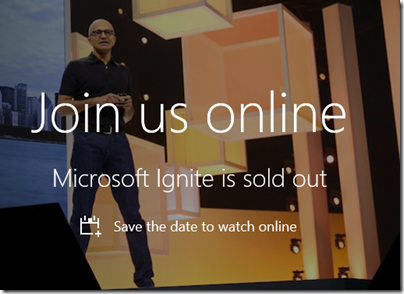 The reason though why these events were so strategically revealing was that nothing at Microsoft mattered more than the direction of Windows. These events were about informing and attracting developers to the Windows platform.
Alongside its developer events, Microsoft has always held others aimed more at system administrators, events like TechEd (especially the USA variant), MEC (Microsoft Exchange Conference) and Microsoft Management Summit (last held in 2013). While always interesting, it seemed to me that these IT Admin events were less strategic than the developer events, because the Windows platform was the foundation of the company's business and it was at the developer events that you saw this platform evolve.
In August 2013 Microsoft co-founder Steve Ballmer stepped down as CEO, to be replaced by server guy Satya Nadella, accelerating the company's pivot away from Windows and towards Office 365 and Azure as its key platform. Microsoft's cloud runs on Windows of course, even if many of the VMs on Azure end up running Linux, but the company is now keen to emphasize its support for any operating system – or to be more precise, Windows, Mac, iOS, Android, and that vague thing IoT – presumably on the basis that broad endpoint support makes its cloud offering more compelling.
I could write screeds about Windows 10 and its evolution, about which I have mixed feelings. Windows for sure remains critically important to Microsoft, and indeed to all of us who feel that it meets needs that its competition does not address. (The answer is not always "just use a Mac", if only because of Apple's addiction to premium pricing and high profit margins).
Nevertheless, it is the cloud and hybrid cloud offerings that come first in today's Microsoft, and Windows server rather than Windows 10 that is more strategically important.
That is why Microsoft Ignite, which starts on Monday 26th September 2016 and is aimed primarily at IT administrators, that is now the key event. Here we will see the formal launch of Server 2016 as well as Azure and Office 365 news; and I plan to pay close attention.