Embarcadero is spilling the beans on a new development tool called AppMethod, which has its own site here and a little more information on TechCrunch. A fuller reveal is promised at SXSW, which kicks off on March 7 in Austin, Texas.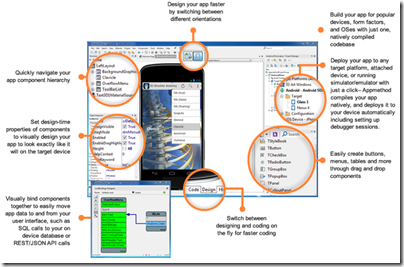 But what is AppMethod? The IDE looks very like Delphi, the languages are Object Pascal (like Dephi) or C++ (like C++ Builder), and target platforms include Windows, Mac, iOS and Android. It would be extraordinary if the GUI framework were not some variant of FireMonkey, the cross-platform and mobile framework in Delphi.
Just Delphi (and C++ Builder, which is Delphi for C++) repackaged then? In a comment Embarcadero developer evangelist David Intersimone says that is "way off base" though the only firm fact he offers is that AppMethod is less capable than Delphi for Windows, which presumably means that Delphi's VCL (Visual Component Library) framework for Windows applications is not included.
Lack of a feature is not a compelling reason to buy AppMethod rather than Delphi so Object Pascal enthusiasts must hope there is more good stuff to be revealed.
I looked out for the Embarcadero stand at Mobile World Congress (MWC), which was a small affair tucked away in the corner of one of the vast halls.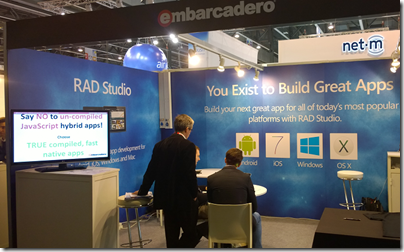 The stand was hardly bustling and was overshadowed by a larger stand next to it for another app building tool, AppMachine. While I would not read much into the size of a stand at MWC, that accords with my general sense that while the recently added cross-platform and mobile capabilities in Delphi have won some take-up, it is a small player overall. Embarcadero may feel that a new name and a bit of distance between FireMonkey/Delphi and the original Windows-only tool will help to attract new developers.