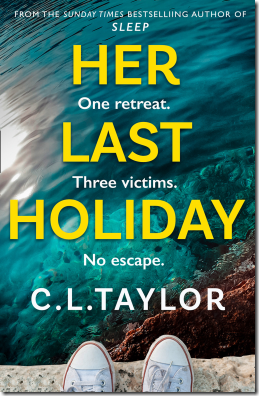 C L Taylor takes us into a world of needy people in this tale of discovery and self-discovery, as a woman (Fran) sets out to discover what happened to her much younger sister who went on a holiday/extended therapy session two years earlier but never returned. The official verdict was suicide but with no body discovered and the fact that the organiser of the event, Tom Wade, was imprisoned for the manslaughter of two others at the same event, there is every reason to suspect that the full story has not been told. When Wade is released and organises a new retreat, Fran attends under an assumed name, determined to find out more.
The novel is billed as a psychological thriller, the tension builds as strange and scary things occur on the retreat and you cannot figure out who is really responsible. It reminded me of one of those Agatha Christie stories where a bunch of people are all in a lovely house together, with surface politeness but all sorts of friction and emotion underneath. The desire to know more kept me turning the pages. The story is told through the eyes of three women: Fran, her missing sister Jenna, and Tom's wife Kate. We jump back in time for the Jenna sections, with helpful chapter sub-heads saying "two years ago". Several people on the current retreat were also at the previous one, so we gradually learn more about them from these different perspectives.
Tom and Kate pitch their holiday retreats as "soul shrink", events for hurt people to give them a new start. We join some of the counselling sessions, and in describing these the author shows deep knowledge of the subject; they are convincingly told and make the book though-provoking in terms of the ways people damage one another (and themselves) and the somewhat dysfunctional families they belong to. There is ambiguity in the telling: are Tom and Kate charlatans making promises to their vulnerable guests that cannot be fulfilled? Or are they doing good work (manslaughter and missing person incidents aside) that really does improve the lives of others? This is deliberate and even at the close of the book, when the facts of the matter are revealed, the reader is, I believe, meant still to have questions about what is sincere and what is fake.
I love books that challenge me to do some thinking, and this is one of them. Part of me though would have liked the loose ends to be more firmly tied up; there is also an incident described in the first chapter for which we never get full resolution.
Great read though, exciting, well-written, thought-provoking and insightful.
Her Last Holiday
is published by Avon Books on 29th April 2021, ISBN 978-0008379223