A sad post yesterday from MeeGo contributor Andrew Wafaa suggests that MeeGo on netbooks may no longer happen:
Basically by all accounts MeeGo is stopping all work on the Netbook UX. Yup, all our hard work is now almost for nothing 🙁
This is remarkable. The original Moblin project, sponsored by Intel, was all about bringing an excellent user experience to Linux on netbooks. The first netbooks ran Linux, but met resistance from a general public familiar with Windows; yet Linux is more suitable for netbooks than Windows in its present form.
Moblin is different. It's a friendly way to get the most out of your netbook. It doesn't work like most other computers because it's optimized for enjoying media, interacting with your social networks and the internet.
wrote Moblin Community Manager Paul Cooper back in 2009, when netbooks were hot.
The problem: tech trends sometimes outpace corporate planning. Moblin was a good idea in 2008, but nothing was delivered; and by the time it looked like it might be ready, the market seemed to want tablets – or Apple iPads – rather than netbooks; and whatever problem Moblin was addressing was already solved by Google Android.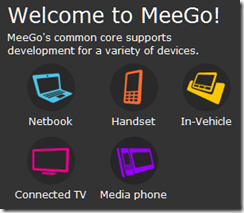 Two years later, in February 2010, Moblin merged with Nokia's Maemo, creating a new project called MeeGo. The new focus would be tablets and smartphones:
The power and capability of handhelds has reached astounding levels – netbooks have been a runaway success – and connected TVs, tablets, in-vehicle infotainment, and media phones are fast growing new markets for devices with unheard of performance. Our goal is to develop the best software to go with these devices.
said Intel's Imad Sousou.
So where are the MeeGo smartphones? Well, maybe we will see one at Mobile World Congress next week. But Nokia is in disarray. According to a leaked memo from new CEO Stephen Elop:
The first iPhone shipped in 2007, and we still don't have a product that is close to their experience. Android came on the scene just over 2 years ago, and this week they took our leadership position in smartphone volumes. Unbelievable.

We have some brilliant sources of innovation inside Nokia, but we are not bringing it to market fast enough. We thought MeeGo would be a platform for winning high-end smartphones. However, at this rate, by the end of 2011, we might have only one MeeGo product in the market.
Perhaps Nokia will progress MeeGo smartphones with renewed vigour; but what looks more likely is that Nokia will embrace a rival platform, maybe Google Android or Microsoft's Windows Phone 7.
That might well be alongside MeeGo, rather than replacing it, but Nokia needs to focus its energy and I would guess that MeeGo will lose out.
It may be the beginning of the end for a promising project that has progressed too slowly.
Update: Reuters is reporting that "two industry sources close to the company" say Nokia has ended development of its first MeeGo smartphone