I spent a few minutes trying out Ares, Palm's web-based IDE for WebOS, the OS used in the Palm Pre smartphone.
Ares is in public beta and I'm not going to pretend I found it smooth going. No doubt it will be fine after a little patient learning. It is amazing, with drag-and-drop visual interface builder, code editor, source code management, debugger, and logging.  Microsoft's Internet Explorer is not supported in any version; you need Mozilla Firefox 3.5 or higher, Apple Safari 4.0 or higher, or Google Chrome 3 or higher.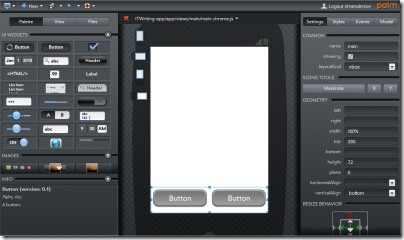 The online IDE uses a bit of Java but seems to be mostly HTML and Javascript. If you try to launch the application, you need a Palm emulator running locally, but you can preview in a browser without any local dependencies.
In order to try Ares, you have to sign up for Palm Developer Center. As part of the process, it appears that you have to give Palm permission to charge fees to your PayPal account, which I disliked, though membership is free for the time being. Of course you hope that any fees will be more than offset by the steady chink-chink of income from your app sales.
Is this the future? My immediate reaction was to be very impressed; a little further in and I was greatly missing the comfort of Eclipse.
Still, this stuff will get better; and the idea of just browsing to an URL to continue development is compelling.