I spent yesterday in the dim light of a Manchester cinema, attending the Windows Phone 7 developer day.
The event was organised by DeveloperDeveloperDeveloper, which is a .NET community group run, as far as I can tell, by a group of Microsoft MVPs. The sponsors were Microsoft, Appa Mundi, and NxtGenUG. Towards the end of the day, Andy Wigley (from Appa Mundi) made a statement that this was a community event and not an official Microsoft event. It was true up to a point, though as far as I can tell Microsoft paid for most of it -"Microsoft UK very kindly provided the venue and logistic support." says the event description. Microsoft was present showing real Windows Phone 7 devices, and the presenters included Andy Wigley (from Appa Mundi) and Rob Miles, who have also presented the official Jump Start training for Windows Phone 7, and regular TechEd speaker Maarten Struys who is a Windows embedded and Windows Phone evangelist working for Alten PTS in the Netherlands. Community, or Microsoft PR?
Regardless, they were excellent speakers and well informed on all things Windows Phone 7. The community aspect did come to the fore when it came to the catering – there was none – and the venue itself which felt as you would expect a cinema out of hours to feel. I'm guessing Microsoft the community was disappointed with the attendance, around 100 in a venue that seats 330.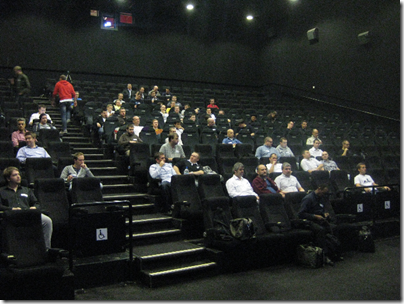 There is one significant benefit to presenting in a cinema. The screen and projection was first-rate.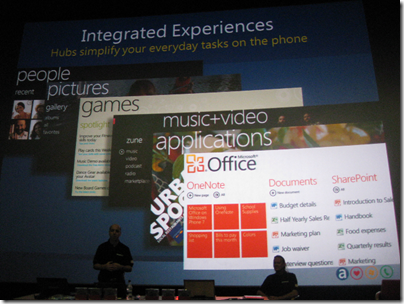 The sessions themselves were introductory but struck me as useful for anyone getting started with Windows Phone 7 development – which given the devices are not yet available, is probably most of us. Andrej Radinger's session on creating apps that work offline was particularly interesting to me. I had previously seen the Jump Start course so some of the material was already familiar, though the refresher did no harm.
Much of the challenge of Windows Phone 7 development is coping with the fact that your app will frequently get killed and have to resume later as if nothing happened. We got a lot of input on this topic.
Another challenge is coping with Expression Blend. Designer Tricky Bassett gave a short but insightful view of the design process for a Windows Phone 7 app, with some intriguing asides along the way. He is a design professional, and said that his team had been excited about SketchFlow, the prototyping tool in Blend, but in practice found it little use because they only need sketches, rather then the working controls which SketchFlow gives you. He also commented on Blend, saying that Blend with Windows Phone 7 projects was more stable than it had been before, in his experience with other projects. In previous work with Blend, solutions that did not load have been a recurring problem – I take it that either they loaded in Visual Studio but not in Blend, or vice versa.
Bassett also said that Blend takes some effort to learn, and this was confirmed by the way some of the presenters struggled to do basic operations with the tool. The Blend UI is perplexing and at events like this one I'd suggest that a Blend Basics piece would go down well.
The Silverlight and XNA platforms strike me as pretty good, though I think that lack of native code development will be a problem among the best developers – there are interesting rumours about certain developers getting special privileges.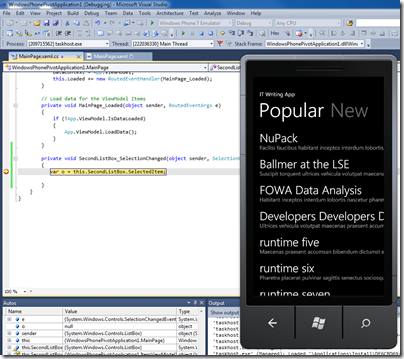 My overriding impression though is that the phone is good, the tools are good, but the demand is lacking. One developer told me that he has been trying to sell an idea for a custom Windows Mobile application to a small business client with 12 employees. They are keen but their employees want either Apple iPhone or Google Android phones. Windows Phone 7 may help by being a better and more attractive device, but getting past the perception that Windows phones are not much good is going to be a problem.
But what can Microsoft do? It is going to take devices that deliver on the promise, a stunning marketing campaign, and aggressive pricing, for this thing to flourish.