Ten things you need to know about Microsoft's Visual Studio LightSwitch
Microsoft has announced a new edition of Visual Studio called LightSwitch, now available in beta, and it is among the most interesting development tools I've seen. That does not mean it will succeed; if anything it is too radical and might fail for that reason, though it deserves better. Here's some of the things you need to know.
1. LightSwitch builds Silverlight apps. In typical Microsoft style, it does not make the best of Silverlight's cross-platform potential, at least in the beta. Publish a LightSwitch app, and by default you get a Windows click-once installation file for an out-of-browser Silverlight app. Still, there is also an option for a browser-hosted deployment, and in principle I should think the apps will run on the Mac (this is stated in one of the introductory videos) and maybe on Linux via Moonlight. Microsoft does include an "Export to Excel" button on out-of-browser deployments that only appears on Windows, thanks to the lack of COM support on other platforms.
I still find this interesting, particularly since LightSwitch is presented as a tool for business applications without a hint of bling – in fact, adding bling is challenging. You have to create a custom control in Silverlight and add it to a screen.
Microsoft should highlight the cross-platform capability of LightSwitch and make sure that Mac deployment is easy. What's the betting it hardly gets a mention? Of course, there is also the iPhone/iPad problem to think about. Maybe ASP.NET and clever JavaScript would have been a better idea after all.
2. There is no visual form designer – at least, not in the traditional Microsoft style we have become used to. Here's a screen in the designer: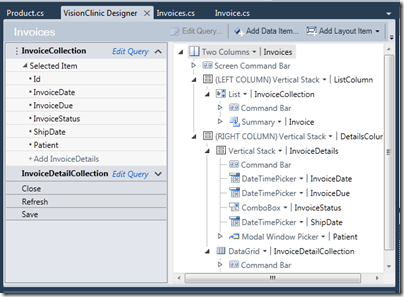 Now, on one level this is ugly compared to a nice visual designer that looks roughly like what you will get at runtime. I can imagine some VB or Access developers will find this a difficult adjustment.
On the positive side though, it does relieve the developer of the most tedious part of building this type of forms application – designing the form. LightSwitch does it all for you, including validation, and you can write little snippets of code on top as needed.
I think this is a bold decision – it may harm LightSwitch adoption but it does make sense.
3. LightSwitch has runtime form customization. Actually it is not quite "runtime", but only works when running in the debugger. When you run a screen, you get a "Customize Screen" button at top right:

which opens the current screen in Customization Mode, with the field list, property editor, and a preview of the screen.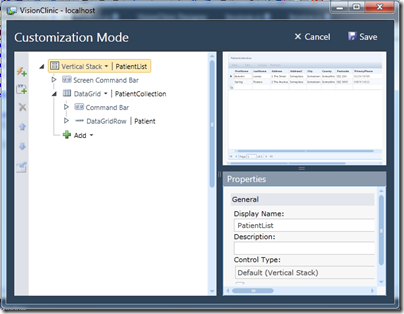 It is still not a visual form designer, but mitigates its absence a little.
4. LightSwitch is model driven. When you create a LightSwitch application you are writing out XAML, not the XAML you know that defines a WPF layout, but XAML to define an application. The key file seems to be ApplicationDefinition.lsml, which starts like this:
Page 1 of 3 | Next page
Related posts: