Access Web App: at last a simple web database app builder from Microsoft
One thing hardly mentioned in the press materials for Office 2013, and therefore mostly ignored in the immediate publicity, is Microsoft Access 2013. It is included though, and its most interesting new feature is a thing called an Access Web app.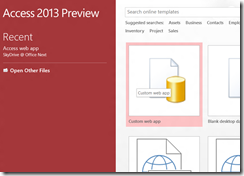 To make one of these, you click the big "Custom web app" button on the opening screen. The first thing you are asked is where to put it. It is looking for a SkyDrive or Office 365 team site – essentially, online SharePoint 2013 I imagine. If you are not signed in, this screen appears blank.
Advertisement
I selected Skydrive at my Office 365 preview site.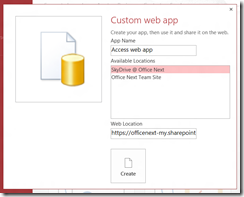 Hit Create and you can select an app from a template. I chose a Music Collection app. Access generated several tables and forms for me and opened the design environment.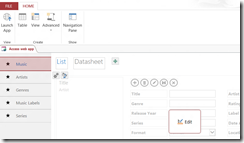 The template app is a bit daft – Artists and Labels are based on a People template, so you get Labels with a Job Title field – but that does not bother me. What interests me is that Access generates a relational database that you can edit as you like. The template UI offers either a list/detail view called a List, or a Datasheet which shows rows in a grid format. There is also a Blank view which you can design from scratch.
I had a quick poke around. Access Web Apps do too good a job of hiding their innards for my taste, but what you get is a SharePoint app with data stored in SQL Server Azure. You can also use on-premise SharePoint and SQL Server 2012.
Programmability in Access Web Apps is limited, but you do get macros which let you combine multiple actions. There are two kinds of macros, UI macros and Data macros. UI macros support a range of actions including SetVariable,  if and else statements. The only loop functions I can see are in Data macros, which include a ForEachRecord action. You can call Data macros from other macros and a Data macro includes a SetReturnVar statement, so I guess with a bit of ingenuity you can do many kinds of automated operations. Macros are described here.
Page 1 of 2 | Next page
Related posts: