Microsoft has opened "multiple data centre locations in the UK" to run Azure and Office 365 cloud services.
I went to the Azure portal to create a new VM, to see the new options. It looks like you have to use the new portal. Here is what I got in the old portal:
In the new one though, I can choose between UK South and UK West.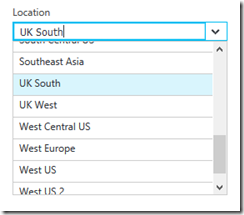 An Azure region is composed of multiple data centres so this looks like a substantial investment. According to this document, the new regions are located in Cardiff and London.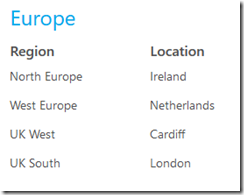 The new infrastructure supports Azure and Office 365 today, with Dynamics CRM Online promised for the "first half of 2017", according to the announcement.
Early customers are the Ministry of Defence, South London and Maudsley NHS Foundation Trust, Aston Martin, Capita and Rosslyn Analytics.
The announcement will help Microsoft and its partners sell these services to UK businesses concerned about compliance issues; there may also be some latency benefit. That said, Microsoft is a US corporation and the US government has argued that it can access this data with only a US search warrant. Microsoft has resisted this and won an appeal in July 2016; however there could always be new legislation. There is no simple answer.
Amazon Web Services has also announced plans for UK data centres; in fact, AWS was the first to reveal plans, but Microsoft has been quicker with implementation.